Phan Thi Ha Thanh and her father at Hanoi's Noi Bai Airport on Oct. 17, 2011 (Photo: SGGP)
Phan Thi Ha Thanh has become the first Vietnamese woman to earn a direct ticket to the Olympic Games after she won the country's first world-class gymnastics medal in Japan on Oct. 15, 2011.
The Hai Phong City 20-year-old woman scored 14,666 to finish third in the women's vault at the world championships in Tokyo Saturday and won a ticket to the 2012 London Olympics.
All individual apparatus medalists at the championships qualify for the Games unless their countries already booked berths in London as teams.
Thanh, who started gymnastics when she was six, told reporters at Hanoi's Noi Bai Airport Monday after her flight from Japan that she expected to win one or two individual medals in the London Olympics next year.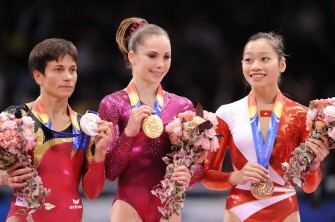 Gold medalist McKayla Maroney of the US (C), silver medalist Oksana Chusovitina of Germany (L) and bronze medalist Phan Thi Ha Thanh of Vietnam (R) pose on the podium during the awards ceremony of the women's vault final at the World Gymnastics Championships in Tokyo on October 15, 2011. AFP