The Vietnamese chess team hope to win three gold medals or more out of the nine categories at the 26th Southeast Asia Games in Indonesia to be held in November.
Grandmaster Le Quang Liem, with Elo 2717, who won the 2011 Spice Cup in Texas, the US on Oct. 25, is Vietnam's biggest hope.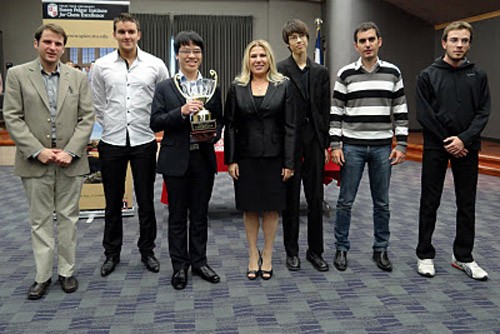 Vietnam's Le Quang Liem secures the Spice Cup trophy in Texas, USA on October 25, 2011 (Photo: Spice Cup gallery)
In August, he succeeded in defending his first runner-up position in the 2011 Dortmund tournament in Germany for super grandmasters.
Nguyen Ngoc Truong Son, who joined the 2011 World Cup with Liem in September, is also golden hope of Vietnam.
The 12-player Vietnam team are training in Ho Chi Minh City the SEA Games, the region's largest sporting event.
The 2005 SEA Games hosted by the Philippines saw Vietnamese players clinch eight gold medals – a record of Vietnam until now.