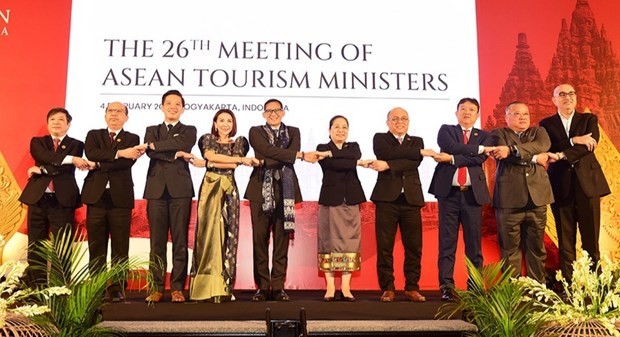 Delegates at the 26th Meeting of ASEAN Tourism Ministers (Photo: VNA)
Speaking at a press conference on the ASEAN Tourism Forum (ATF) 2023 in Indonesia on February 5, the official said apart from traditional markets that have experienced difficulties, ASEAN should seek new ones and adjust some policies relating to aviation connection and visas.
He also suggested the bloc continue implementing tourism development strategies for 2016-2025 and adjust and update them after each meeting of ASEAN tourism ministers.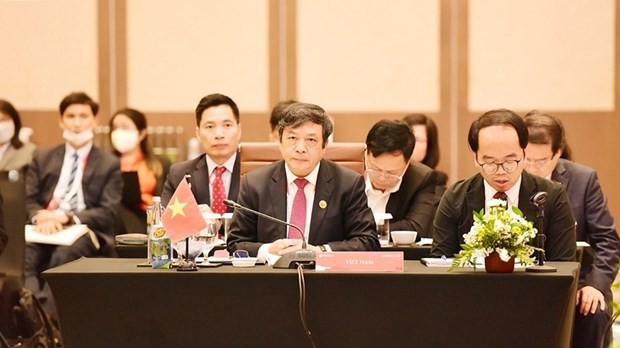 Deputy Minister of Culture, Sports and Tourism Doan Van Viet (Photo: VNA)
Viet described culture as the core value of regional tourism and a unique factor helping the countries attract tourists.
Sharing Viet's view, Philippine Tourism Secretary Christina Garcia Frasco also suggested the ASEAN countries come together to offer unified tourism packages.
"We have agreed to increase first connectivity between our countries and to concretize that by identifying the international and secondary airports that may be utilized for the purpose of expanding direct flights, not only towards our key destinations but also to emerging destinations," she told a press conference.
Juliana Kua, Assistant Chief Executive Officer at the Singapore Tourism Board, said ASEAN should get a common understanding and a common plan towards the sustainable development of the tourism industry.
For his part, Indonesian Minister of Tourism and Creative Economy Sandiaga Uno said the forum sought ways to strengthen the intra-bloc connectivity to facilitate traveling and tourism in the region.
Delegates also exchanged views on measures to increase flights from India and lure more Chinese tourists after the country reopened its borders in the spirit of "ASEAN as a single destination".
The forum sent a message of ASEAN's recovery, especially in terms of quality, sustainable tourism, as well as its diversity in nature and culture, the minister noted.
The ATF 2023, including the 26th Meeting of ASEAN Tourism Ministers, took place in Yogyakarta, Indonesia, from February 2 – 5.
At the events, Vietnam introduced its tourism development, mechanisms and policies, tourism products and services after the Covid-19 pandemic, and the message of Vietnam tourism through the slogan "Vietnam - Timeless Charm" and the campaign "Live fully in Vietnam".
According to data from the ASEAN Secretariat, in 2019, international tourist arrivals in Southeast Asia reached 143.5 million, accounting for 9.6% of global international tourists. The growth rate reached 6.1%, 2.1% higher than the world's average.
For Vietnam, ASEAN is one of the most important markets and partners. In 2019, visitors from ASEAN to Vietnam hit nearly 2.1 million, accounting for about 11.6% of the total number of international arrivals to the nation.