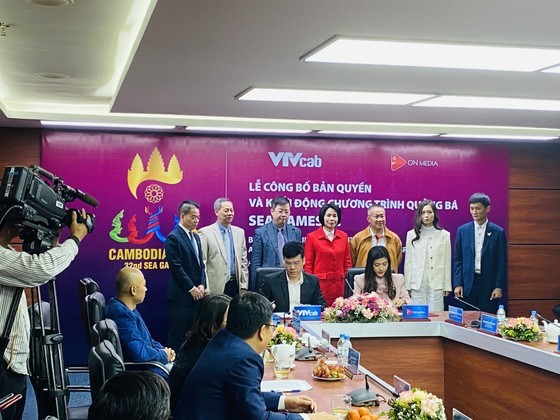 The sides signed a contract on broadcasting rights for the 32nd SEA Games. (Photo: Minh Chien)
This morning, cable television unit VTVCab under Vietnam Television signed a broadcasting licensing agreement between Future Technology Media Corporation (Onmedia) and the Cambodian SEA Games Organizing Committee (CAMSOC).
From July 2022, the Southeast Asia Sports Council discussed and approved the broadcasting licensing purchasing for the host country of Cambodia, and the 32nd SEA Games will be the first games to have broadcasting rights for sale.
According to the agreement with VTVCab, CAMSOC assigned Onmedia being authorized to distribute broadcasting rights of the 32nd SEA Games in Vietnam territory.
The representative of the Olympic Committee in Cambodia said that broadcasters of countries in the region will negotiate to buy television rights for the 32nd SEA Games in Cambodia with the organizing board.
VTVCab will perform content production for some sports as well as support to produce related contents of the Games.
The cost of the agreement has not been unveiled. The 32nd SEA Games will take place in Cambodia in May.