With 183 out of 190 votes, the UN General Assembly on October 16, elected Viet Nam as non-permanent member of the UN Security Council for the 2008-09 term.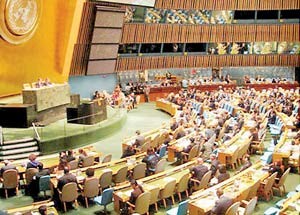 Viet Nam is elected as non-permanent member of the UN Security Council.
In the first round of voting, Viet Nam, Burkina Faso and Libya were elected to the non-permanent member seats. Two seats for the groups of Eastern European and Caribbean Latin American countries had to be re-voted as candidates did not win two-thirds of voting.

At the main hall of the General Assembly, representatives of many countries warmly congratulated the Vietnamese representative on the event.

Viet Nam will officially begin work in the Council from January 1, 2008, replacing Qatar, representing Asian countries, which will conclude its term on December 31, 2007. Six weeks before that dates, the Vietnamese representative and his counterparts from other newly-elected member countries will be permitted to attend all sessions of the council as observers.

In Ha Noi, while interviewed by the Vietnam News Agency after the vote, Prime Minister Nguyen Tan Dung said "Becoming one of the 15 members of the most important agency of the largest international organization is a great honor that also comes along with a heavy responsibility. A non-permanent member of the United Nations Security Council is responsible to take a full part in the process of drafting and building the Council's important decisions pertaining to the most important issues relating to peace and security in various regions and the world as a whole".

"To fulfill the task, Viet Nam will also adhere to the guidelines, goals, and principles of the UN Charter, international law in addition to actively asking for consultancy from and cooperating closely with other UN Security Council members to give out appropriate policies for the sake of the legitimate interests of all UN member countries",the PM added.