MANCHESTER, United Kingdom, Sept 15, 2010 (AFP) - Manchester United winger Antonio Valencia will not play again this season after a freak injury in the 0-0 Champions League draw with Rangers left him with a fractured and dislocated ankle.
Manager Sir Alex Ferguson defended his selection policy, for the second consecutive game, after making 10 changes to the team that drew at Everton in the Premier League on Saturday.
But the loss of Ecuador international Valencia was, possibly, the most costly feature of the Old Trafford stalemate for the United manager.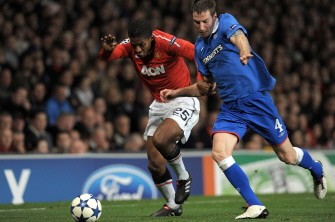 Antonio Valencia (L) is tackled by Rangers' Scottish defender Kirk Broadfoot during their UEFA Champions League game at Old Trafford in Manchester on September 14, 2010. AFP
Valencia, who had surgery on the right ankle in the summer, twisted awkwardly as he sprinted down the sideline and was left with a shattered left ankle, dislocated and fractured.
Ferguson said: "He's gone to hospital. It is a dislocation and a fracture, it's a bad one and will keep him out for a long time.
"He seemed to dig his toe in the turf and when we saw the Rangers player waving we knew it was bad. It was an innocuous challenge and we didn't expect that.
"It's a similar injury to the one (former striker) Alan Smith had here in 2006 so he is out for the rest of the season."
Rangers defender Kirk Broadfoot looked shaken as he helped Valencia and waved on the United medical team who stretchered off the player.
But the injury was not the only concern for Ferguson who recalled Wayne Rooney, whom he had controversially left out at Everton, and Rio Ferdinand but saw his team unable to make a single clear-cut chance.
Ferguson, while defending the policy, did admit that omitting Dimitar Berbatov from even a place on his bench may have been an error.
"The criticism will be why I didn't pick a strong team but I felt I picked a strong team," said Ferguson. "We have a terrific squad of players and most of them played at the Charity Shield.
"We wanted to see how Chicharito (Javier Hernandez) could do in a full game but by doing that we left out Berbatov and his form has been outstanding.
"He's been one of our best players this season and you have to say that was a loss. His ability to create in tight situations would have made a difference.
"They should have won the game but give Rangers credit as their system was difficult to break down.
"You need 10 points to qualify. Obviously our home record over the years has been very good. It was a blemish against Rangers but it is one point and you never know how the rest of the games will go. But we have a target now, nine points from five games."
Ferguson, who has seen his team draw two away games already in the Premier League this season, is also expecting a positive response from his team when Liverpool visit Old Trafford on Sunday.
"It's a big game," he said. "The disappointment of last Saturday has to resonate with the players, we can't make mistakes like that again."
Rangers manager Walter Smith, Ferguson's old friend and ally, was delighted with his team's point although he conceded that financial limitations make it difficult for his team to compete in the Champions League.
"From our point of view, I'm pleased with the way the boys handled themselves," said Smith.
"They showed great determination and a high level of concentration throughout the game and limited United to very few clear-cut chances.
"It's not just Scottish clubs, but clubs in Holland, Portugal and others. We're all suffering badly because of financial limitations and we have next to no chance of winning the Champions League - the same as 85 per cent of English teams have no chance of winning their league."