The United States said Saturday it was "deeply troubled" by reports of attacks on civilians in the Yemeni flashpoint city of Taez, and urged all parties to exercise "maximum restraint."
In a statement, State Department spokeswoman Victoria Nuland also called for a "prompt investigation" into the deaths of civilians in Taez, Yemen's second city located south of the capital Sanaa.
"We are deeply troubled by reports of attacks against civilians in the city of Taez. We extend our condolences to the families of those who lost their lives," Nuland said.
"We condemn violence by all parties in Yemen and call for all sides to exercise maximum restraint.
"We also call for a prompt investigation into the circumstances of these attacks and for those responsible to be brought to justice."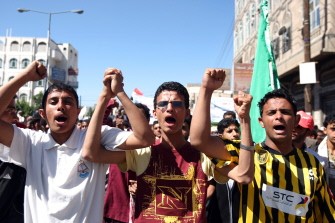 An anti-government protesters attends a demonstration demanding the ouster of Yemen's President Ali Abdullah Saleh, in Sanaa November 13, 2011
On Friday, government forces shelled a protest site in Taez, killing 15 civilians, including at least three women and three children, according to medics. At least 40 other people were wounded.
The violence erupted when security forces loyal to President Ali Abdullah Saleh began shelling areas around Freedom Square, the epicenter of the protest movement in Taez.
Witnesses blamed the violence on the Republican Guard, an elite unit commanded by Saleh's son Ahmed, accusing it of firing tank and artillery rounds into a crowd of protesting civilians.
The violence continued Saturday as armed tribesmen who have thrown their support behind the protest movement clashed with government troops in the city's Hassab district, witnesses said.
"If President Saleh cares about Yemen's future and the well-being of the Yemeni people, he must immediately initiate a full transfer of power" within the framework of a Gulf peace plan, Nuland said.
The spokeswoman called on Saleh to make good on his promise to step down "without delay."