Tunisia holds its first-ever free elections Sunday with an Islamic party poised to win, nine months after the surprise toppling of strongman Zine el Abidine Ben Ali that sparked the Arab Spring.
From 7:00 am (0600 GMT), some 7.2 million eligible voters, many of them undecided to the end, can elect a 217-member assembly that will write a new constitution after decades of autocratic government.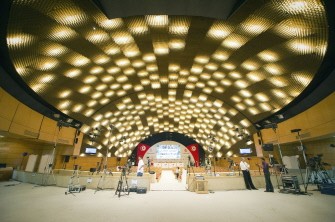 The international press center is pictured in Tunis on October 22, 2011, on the eve of historic national election in Tunisia
The multi-party body will also have the loaded task of appointing an interim president and a caretaker government for the duration of the drafting process, expected to take about a year.
Ennahda, banned under Ben Ali, is polled to win the biggest bloc of votes in this first-ever open contest in a country where the outcome of elections used to be a foregone conclusion.
The constituent assembly will have to choose what type of government the country will have and how to guarantee basic liberties, including women's rights which many fear Ennahda would seek to diminish despite its assurances to the contrary.
Ennahda is accused in many quarters of being moderate in public but radical in the mosques.
The progressive left, however, remains divided with party leaders having failed to form a pre-vote alliance.
Ben Ali was ousted in January in a surprise, leaderless revolt that sparked region-wide pro-democracy uprisings which claimed their latest victim Thursday with the killing of Moamer Kadhafi of Libya, which will declare its official "liberation" Sunday as Tunisians go to the polls.
Unlike its neighbour, which descended into civil war, Tunisia's path to democracy has been mostly peaceful apart from some protests against the pace of transformation and sporadic violent outbursts by conservative Islamists against secularisation.
Elections chief Kamel Jendoubi on Saturday declared his ISIE polling commission "ready and confident", while the European Union observer mission said there was "almost no chance of cheating or falsifying results".
Ennahda had warned of a risk of vote rigging and vowed a fresh uprising if it detected fraud, but its leader Rached Ghannouchi stressed at a final rally Friday that the party would recognise the results "no matter Ennahda's score."
In what is widely regarded as the Arab Spring's first democratic test, Tunisians can choose from more than 11,000 candidates -- half of them women -- representing 80 political parties and several thousand independents.
Vote counting will start as soon as polling stations close at 7:00 pm, with results updated live throughout the night.
The final tally will be released on Monday.