Minster of Transport Dinh La Thang has sent the Ministry of Finance and investors of BOT (Build-Operate-Transfer) projects a document, proposing them to postpone toll increase time until June 1 instead of January 1.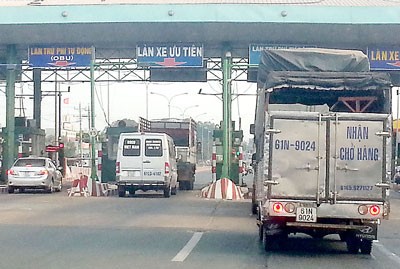 A toll station in Highway 13 in HCMC (Illustrative photo: SGGP)
He has made the proposal after many businesses and residents raised objections against toll fee increase of many BOT projects scheduled on January 1, 2016.
While negotiating BOT contracts, the Ministry of Transport and investors had based on the expected growth rate of consumer price index (CPI) and ceiling toll levels set by the Ministry of Finance to give the rate for each phase, the ministry said.
However, CPI has been well curbed to be much lower than predicted so far. Hence, the ministry suggested BOT investors to put off the fee increase time and recalculate toll levels to suit the CPI growth rate.
The investors should work with local authorities nationwide and the Ministry of Transport to propose the Ministry of Finance to amend its circular on road toll fee and make a draft BOT contract appendix to have suitable adjustments in the time head.