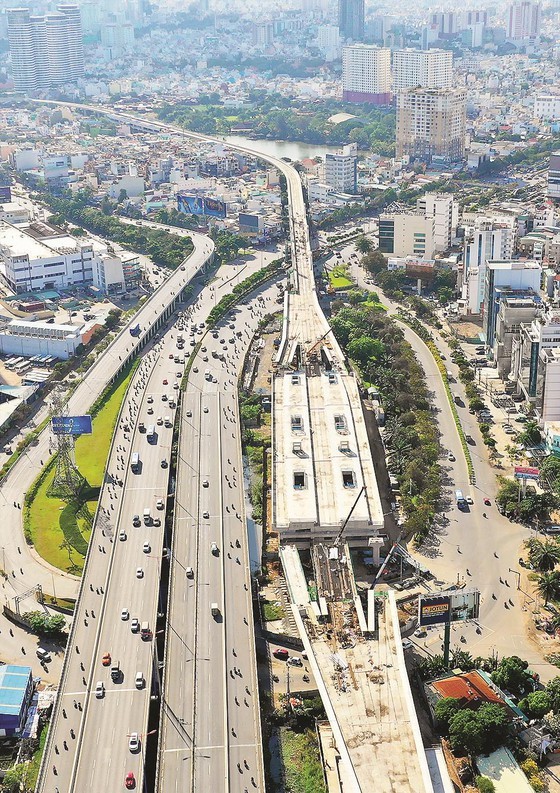 Ben Thanh-Suoi Tien metro project has completed about 70 percent of the work volume, expected to be done by the end of 2021 (Photo: SGGP)
The announcement was made by deputy chairman of the city People's Committee Vo Van Hoan on the sideline of a conference on technology application in reducing traffic accidents in the city yesterday.
Despite the capital reduction, Mr. Hoan affirmed that the project's construction progress and quality will be ensured. According to Mr. Hoan, the first metro line was scheduled to be built within five years but it has lasted for nearly ten years. The project's implementation has seen some problems for taking place during a long phase amid unclear legal basis and shortage of practical experience. VND3.4 trillion is the total money saved after the city eliminating unnecessary factors and items from auctioning and bidding, Mr. Hoan said.
After the Politburo gave opinions about the projects, the Government has assigned the city to coordinate with the Ministry of Planning and Investment, the Ministry of Transport, the Ministry of Finance and assessment councils to complete adjustments in technical design and total investment capital for the first and second metro lines. The adjusted amounts do not exceed the levels approved by the National Assembly, VND47 trillion for the first metro line and VND48 trillion for the second one.
In the morning on November 13, Mr. Hoan said he had signed a decision to approve the capital adjustment for the two metro lines. It is expected that the city People's Committee will prepare documents to submit to the city People's Council to consider issue of a resolution to arrange funds for the projects' implementation.
Afterwards, relevant sides will have to urgently implement the remaining items of the first metro line project to build it at the end of 2021. It is scheduled that locomotives and coaches will be imported to the city early next year.
The 20 kilometer long Ben Thanh-Suoi Tien metro line was approved by the HCMC People's Committee in 2007 with the total capital of VND17.4 trillion ($635 million). In 2010, it was increased to VND47 trillion ($2.03 billion) because of changes in the design of the project and exchange rate of Japanese Yen without approval. Afterwards, the National Assembly permitted the city to revise the total investment capital basing on opinions of relevant ministries and central agencies.
The city has three times used its budget for construction of the first metro line with the total amount of VND5 trillion ($215.29 million). After completing procedures, the Ministry of Planning and Investment will arrange funds for building the work and refunding the advance to the city.
While waiting for capital disbursement from the central government, the city plans to continue spending VND1.7 trillion from its budget to make payment to investors, construction firms and workers so that they can set their minds at rest to continue working.