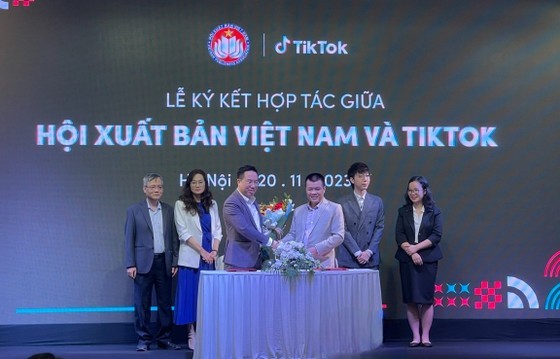 The Vietnam Publisher Association and TikTok Vietnam officially sign a cooperation agreement
In order to develop reading habits and promote the development of reading culture in the community as well as simultaneously seek many potential opportunities for the publishing industry, the Vietnam Publisher Association and TikTok Vietnam officially signed a cooperation agreement for the 2023-2025 period on November 20 in Hanoi.
Under the cooperation agreement, TikTok will support the promotion of books and reading culture in Vietnam. Through the hashtag challenge #BookTok, the Vietnam Publisher Association and TikTok Vietnam encourage content creators to continue to spread and share their love of reading books in the community.
Accordingly, the two sides set a goal of reaching 1 billion views on the platform for promotional content, book communication and reading culture in the next 12 months. "#BookTok Day" will be launched periodically every month on the TikTok platform to introduce books on topics to TikTok users, and at the same time, there will be promotion programs to sell books at cheap prices to readers.
In particular, in order to prevent activities of buying and selling fake and pirated books, TikTok and the Vietnam Publishing Association have formulated a close cooperation mechanism to prevent the buying and selling of fake and pirated books on TikTok. The two sides aimed that stores selling fake and pirated books in TikTok would be deleted within 48 hours after the Publisher Association informs TikTok.
Speaking at the signing ceremony, Mr. Nguyen Nguyen, Vice Chairman of the Vietnam Publisher Association, expected that the cooperation program between VPA and the TikTok platform will be a potential opportunity for the publishing industry whose role is to spread reading culture to the entire community.
A representative of TikTok Vietnam said that TikTok is actively cooperating with publishing units to launch the Trending #BookTok bookshelf category located at stores which are selling books and websites; thereby, it is hoped to help increase sales for publishers while creating opportunities for the development of new authors.