Deputy Prime Minister Vương Đình Huệ on behalf of the Government asked for tighter supervision of equitising State utility companies and firms wholly owned by State economic groups, under a dispatch issued on Tuesday.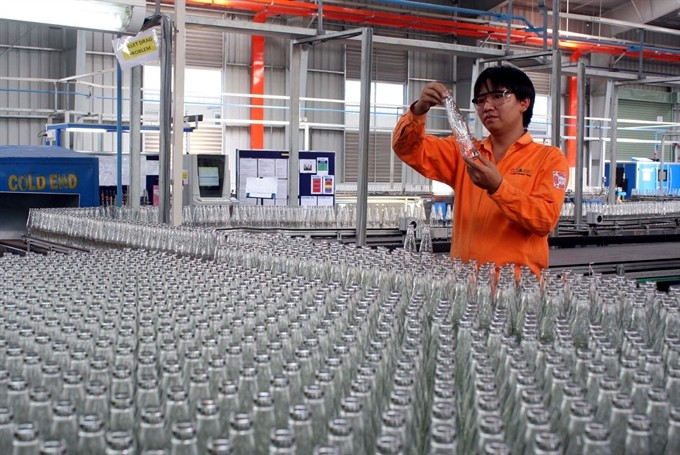 Glass bottles are manufactured at O-I BJC, a joint venture glass container manufacturer between Owens Illinois, Berli Jucker Public Company Limited and Sài Gòn Beer Alcohol Beverage Company (Sabeco). Stakes divestment from State-owned companies, including Sabeco, was urged to be implemented with transparency. (Photo: VNA/VNS)
Such State-owned enterprises (SOEs), whose equitisation plans have not been approved by the authorities, must have their corporate evaluation results audited by the State Audit Office of Việt Nam.
For companies with more than VNĐ5 trillion (US$222.2 million) in equity, the audit must be implemented in accordance with Decree No 59/2011/NĐ-CP dated July 18, 2011 on changing SOEs into joint stock firms, and Decree No 189/2013/NĐ-CP dated November 20, 2013 supplementing the former.
For other firms that are not differentiated in sizes of equity, the audit is to conform to the Law on State Audit.
Huệ also asked the Ministry of Finance to suggest pilot cases where foreign auditing companies were hired to evaluate domestic enterprises, with evaluation results used for share offers in the international market, by September 15.
The audit is needed to boost transparency and prevent corruption and misspending in the equitisation of SOEs, he said.
News website ndh.vn reported citing Government schemes that 514 SOEs were to be ready for equitisation during 2011-15. As many as 478 firms, or 93 per cent of the SOEs, already had equitisation plans as of the end of last year.
According to the website, embarrassment still occurred in the evaluation of some major firms, and telecommunications operator MobiFone was one of them.
MobiFone was listed among the companies to be equitised over 10 years ago, but only last April did the Ministry of Information and Communications submit a plan to evaluate the company to the Government.
The Government has not yet decided on an official plan to equitise MobiFone, while Prime Minister Nguyễn Xuân Phúc reportedly asked for an inspection of MobiFone buying 95 per cent of MobiTV, formerly known as Audio Visual Global JSC.
Earlier this month, the State audit office reportedly suggested that financial investments should be reviewed at Bến Thành Group, a HCM City-based firm dealing in tourism, trading, real estate and industrial production, before this company was equitised.
The office also recommended the finance ministry to direct the State Capital Investment Corporation (SCIC) to revalue lands and assets of the Southern Waterborne Transport Corporation. This was needed to avoid losses of State capital while the SCIC was divesting from the transport company.
During a Government meeting on Monday, Prime Minister Nguyễn Xuân Phúc also asked ministries, the SCIC and relevant agencies to act against corruption in the SOE equitisation process.
Divestments
Phúc was chairing a discussion on State divestments from Sài Gòn Beer Alcohol Beverage JSC and Hà Nội Beer Alcohol Beverage JSC, as well as capital withdrawal of SCIC from 10 other giants.
Among the 10 were Bảo Minh Insurance Corporation, FPT Telecom, Việt Nam Infrastructure Investment & Development JSC, Hà Giang Mineral Mechanics JSC, and Việt Nam Dairy Products JSC (Vinamilk).
The remaining five were Việt Nam National Reinsurance Corporation, Tiền Phong Plastic JSC, Bình Minh Plastic JSC, Sa Giang Import Export Corporation and technology group FPT.
The divestments must be performed in a transparent manner following market rules, Phúc said.
"The sale of State stakes in these SOEs is good news to the market. The SCIC and the Ministry of Industry and Trade need to soon inform people with detailed information and roadmaps," Nguyễn Hoàng Hải, vice chairman of the Việt Nam Association of Financial Investors told Tuổi trẻ (Youth) newspaper.
Industry insiders said the Government could gain up to VNĐ150 trillion, or $7 billion, if State stakes were withdrawn from all these firms. The estimation was based on share prices of the firms in the market, and the prices that some partners have offered to buy into some of them.
Trần Hoàng Ngân, a member of the National Assembly's Economic Committee, told Tuổi trẻ "One thing needed for speeding up State divestments from businesses is to handle 'privileged groups'. The divestments must be public and monitored by the market."
A source from SCIC reportedly said that the company was scrutinising capital withdrawal schemes, because too rapid a withdrawal might cause share prices to slump. The company planned to divest from Sa Giang and FPT Group this year, the source said.
Phúc said measures to preserve national trade names such as Sài Gòn Beer, Hà Nội Beer and Vinamilk were needed, as State stakes would be offered to both domestic and foreign investors in a competitive manner.