Thai goods have staged a spectacular 'coup' to replace Chinese goods in Vietnam. The appearance of Thai leading retailers together with a Thai goods consumption trend has placed Vietnamese businesses in a severe competition at home.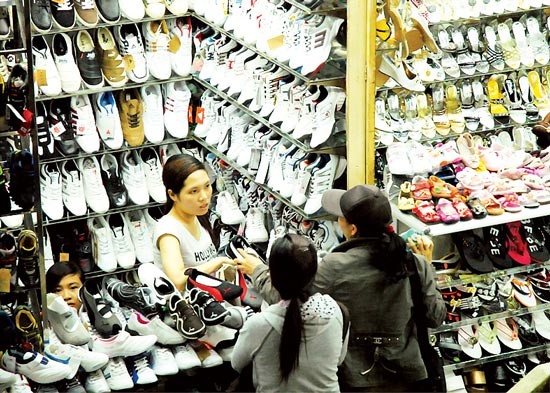 Thai goods have been more and more popular in Vietnamese market (Photo: SGGP)
They have entered Vietnam for the last several years and intensively increased in volume with diversified designs and stable quality since early this year.

Thai electronic items have been more attractive than that of other nations thanks to competitive prices. Chemicals and cosmetics, household appliances and kitchen utensils from Thailand have also covered local supermarkets, convenient stores and markets.

Specially, Vietnamese garment and footwear products in the middle and high class segments for children have failed to compete with Thai goods because 70-80 percent material source for this industry depends on imports.

Many Thai goods shops have been opened in Ho Chi Minh City selling products of diversified types and eye catching designs. Thai fruits such as langsat, mangosteen, tamarind, mandarin and mango and dried fruits and beans are popular at wholesale markets in the city.

Director of T.V Company who does not want to reveal name said that the company has worked with Thai partners for the last 12 years and gained much success because the volume of Thai import products have gone up 8-10 fold over that before.

Thai companies have not only assisted the company to take many kinds of goods in modern distribution channels but also trained human resources and conducted market surveys.

Besides consumer products, the company is thinking about distribution of high value products such as automobiles, he added.

Thai companies have created a distribution system by purchasing a number of supermarkets and trade centers in Vietnam before the tariff barrier between two countries is removed by next year.

Director of the Pathfinder consulting firm Tran Anh Tuan said that Thai businesses have methodically and professionally done market researches for detailed estimations on the consumption demand of every segment and region in Vietnam. From that they have mapped out effective approach strategies.

A lot of trade promotion events including Thai goods fairs have been hosted by them in Ho Chi Minh City for the last ten years. Thai businesses have more advantages than those from the US and EU to invest in Vietnam because local consumers have long liked Thai goods for their goods quality and lower prices, he said.

Chairwoman of High-quality Vietnamese Goods Association Vu Kim Hanh said that Thai retailers know inside out lax and vague assistance policies by Vietnamese Government to their businesses in the field. This has caused difficulties and limitations for Vietnamese businesses to compete with Thai firms.

Authorized agencies should have better policies to assist local retailers in the competition with Thai goods, she said.

The General Department of Vietnam Customs reported that Thailand is one of nations that Vietnam has the largest trade deficit with.

Vietnam's export value to Thailand approximated US$2.85 billion while imports hit US$5.79 billion in the first ten months this year, resulting in a trade deficit of nearly US$3 billion.