2014 is estimated to be a prospering year for the real estate market, many new polices were issued to revive the market, businesses opened large projects for sale and the liquidity increased.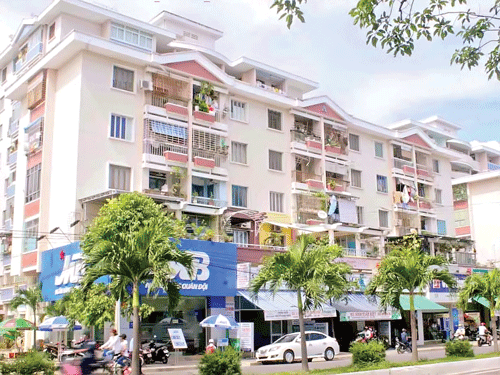 The Government has loosened loaning conditions of the VND30 trillion credit package to cover more low income house buyers (Photo: SGGP/ Financial Investment)
1. NA passes revised Real Estate Law

The revised Real Estate Law was passed at the 8th session of the 13th National Assembly on November 25 and will take effect from July 1 next year with many breakthrough policies expected to solve difficulties in the real estate market.

The most notable regulation is that investors of uncompleted housing projects are just permitted to sell future property with banks' guarantee. The banks will perform duties in contracts between the investors and their customers in case the investors fail to do so. This aims to protect house buyers from the ongoing popular situation of buying houses on paper.

Besides, the revised law also loosens regulations permitting foreigners to buy houses in Vietnam.

2. Social housing credit package covers more people

The Government has issued a decree to speed up the disbursement of the VND30 trillion (US$1.4 billion) housing credit package.

Officials, civil servants, armed forces, low income workers and laborers with housing difficulties will be eligible to get loans from the package for apartments with the maximum value of VND1.05 billion (US$49,000).

Loaning time to households and individuals has been extended to 15 years from 10 years.

3. Several investors open new projects for sale

Several investors have put up several new projects for sale after many years of falling in frozen condition.

Early this year, a lot of middle and high class apartment projects were offered with many incentives for house buyers. For instance, customers just need to pay 20-30 percent of an apartment's value to receive the property immediately, and the rest amount will be paid after a year with 0 percent interest rate. The house buyers also have chances to receive gold or automobile interior items as presents.

These incentives have been applied for the last one year by many investors to stimulate housing demand.

4. Sanctions for investors to speed up granting land use right certificates

The Ministry of Natural Resources and Environment will publicly announce the names of investors who late grant 'red books' or land use right certificates to their customers on the websites of all-level people's committees.

Those delaying the process will be banned from carrying out other projects.

The Prime Minister has also issued a decree, in which investors will be fined up to VND1 billion (US$47,000) for not complying with regulations in land field including the red book issue process.

HCMC Department of Natural Resources and Environment also announced other sanctions to the violators.

5. Real estate ranked second in FDI attraction

Statistics by the Foreign Investment Agency shows that real estate is ranked second in Foreign Direct Investment (FDI) attraction in Vietnam this year with 32 new projects having a capital of US$1.27 billion, accounting for 7.3 percent of the total registered capital. Disbursement reached US$11.2 billion, up 6.2 percent over last year.

Most projects with investment capital exceeding US$100 million concentrate in the southern region.

6. Negative cases

Chairman of Thien Thanh Group Pham Cong Danh, investor of several large projects in HCMC, Da Nang and other localities, has been held in custody for economic management wrongdoings.

Beside, secretary general of the Vietnam Real Estate Association Phan Thanh Mai has also been arrested for intentionally breaking the government regulations causing severe economic consequences.