Sai Gon Giai Phong Newspaper, the National Assembly's Economic Committee and the Ministry of Agriculture and Rural Development hosted a seminar gathering senior central leaders to debate measures for sustainable development of agricultural value chains in the Mekong Delta province of Ben Tre on December 1.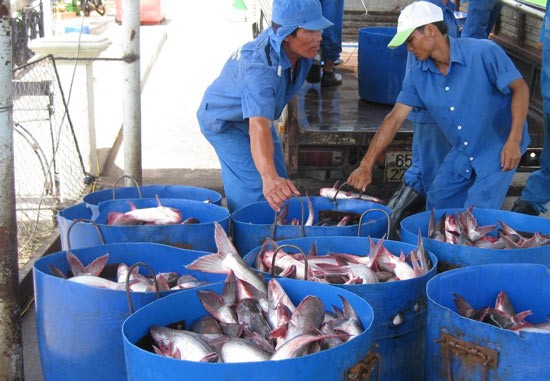 Tra fish production is one of the most earners in the Mekong Delta. However the industry has faced difficulties because of lacking connectivity (Photo: SGGP)
Deputy Minister of Agriculture and Rural Development Le Quoc Doanh said that reform of economic institution and management mechanisms in agricultural field brought many achievements in the 1990s and 2000s. However the agricultural industry has now faced big challenges. Many policies used to yield successes have become outdated and a barrier for development.
While production force--the number of farms and agricultural businesses has continued increasing, production relations have yet to innovate appropriately.
Small scale farming is still prevalent now while connectivity between farmers and businesses has not developed to create value chains of farm produce, he added.
The weak connectivity can be seen through low successful rate of production and consumption affiliation contracts, only 20-30 percent to rice. Many farmers and businesses have breached their contracts.
Companies in the rice industry have been short of capital to assist farmers to broaden production scale and improve farming techniques. They have also been unaffordable for rice purchase organization and based on traders.
A number of connectivity models have been implemented but faced with difficulties partly because there has few effectively operating farmers associations. Large scale paddy fields have been hit with price fluctuation, natural disasters and climate change.
Chairman of Vietnam Cooperative Alliance Vo Kim Cu said that connectivity has been encouraged among four sides including farmers, businesses, scientists and the Government. However it has not been clear that who is commander.
Associate professor Vo Tong Xuan said that weaknesses in the agricultural industry have been caused by farmers whose many have abused fertilizers and pesticides, the government who have let farmers do what they want, cultivating any plant they find profitable and chop down those not lucrative.
Businesses also contribute to the industry's instability for failing to determine consumption sources. When having orders, they step up purchase via traders with definite purchase and makeshift agreements.
Mr. Pham Thai Binh, director of Trung An Company in Can Tho city said that businesses have assisted farmers but policy makers have not paid attention to businesses. For instance, farmers have been sponsored to buy combine harvesters and other machines to mechanize production while businesses have received nothing.
Foreign invested companies have been allowed to import fertilizers and pesticides for their projects while local companies unpermitted to do so for their large scale paddy fields.
Deputy Minister of Planning and Investment Nguyen Van Hieu said that the Government plays important role in the four side connectivity as it implements plans, build institution and protect legitimate benefits of farmers and businesses.
Many delegates at the seminar agreed that too many policies on agricultural and rural development have been carried out but not drastically.
Ms. Huynh Thi Cam Chau, from Luong Quoi Coconut Processing Company in Ben Tre province, said that current circulars on customs clearance have raised difficulties for businesses with more time consuming procedures.
Besides it has been difficult for Vietnamese goods to enter domestic supermarkets with overlapped mechanisms, she added.
In response, deputy chairwoman of the National Assembly Nguyen Thi Kim Ngan said that companies should send documents on their difficulties to the NA Economic Committee this body can propose related ministries to solve them.