Torrential rain lashed southern China on Tuesday as tropical storm Nalgae made landfall after wreaking havoc in the Philippines, state media said.
Some parts of the south are still reeling from the damage caused by tropical storm Nesat, which killed at least four people in China, forced the evacuation of hundreds of thousands of residents, triggered floods and toppled houses.
Nalgae, which weakened from a typhoon to a tropical storm before hitting the southern island of Hainan on Tuesday, would cause heavy downpours in the southern province of Guangxi over the next two days, Xinhua news agency said.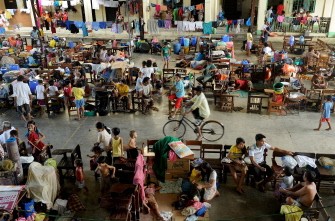 People displaced by Typhoons Nesat and Nalgae seek refuge at a covered basketball court-turned-evacuation centre in Calumpit town north of Manila on October 4, 2011.
Officials warned of "rain-triggered geological disasters" in the coming days.
Nesat, which hit the island as a typhoon before weakening to a tropical storm last week, caused damage in Hainan, but wreaked more havoc in Guangxi where it triggered widespread flooding, killing four people and causing direct economic losses of at least 2.1 billion yuan (around $330 million).
Both Nesat and Nalgae have devastated the Philippines, which deployed helicopters, inflatable boats and amphibious vehicles in attempts to evacuate tens of thousands stuck in rising flood waters.
Philippine authorities recorded three fatalities from Nalgae, and said Nesat left at least 55 people dead after it unleashed strong winds and devastating floods.
Another 28 remained missing while 360,000 people were either in evacuation centres or stranded in the flooded areas and in need of relief, according to the civil defence office in Manila.