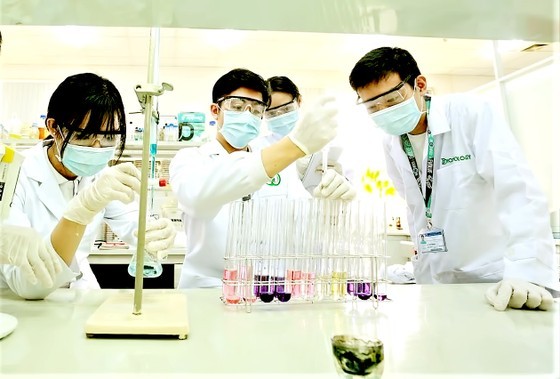 Schools launch digital-related majors to meet students' needs
Even schools training economics majors turning into multidisciplinary schools are starting to open majors in technology. However, education experts wonder if the conditions of the training program, teaching staff, and material facilities are guaranteed.
According to Professor Su Dinh Thanh, Rector of the University of Economics, the university will open many new disciplines including Financial technology (Fintech), Marketing technology (Martech), Digital business (Digital business), Robots and artificial intelligence (Robot & AI), Logistics technology (Logitech).
In addition, the university will launch new integrated dual-division, dual degree programs namely political economy and law, and local management. Although the school will keep the admission approaches stable as in 2022, it will increase the quota for the admission method according to the results of the high school graduation exam.
Meanwhile, the Admission Council of the National University of Ho Chi Minh City has approved some new undergraduate majors at its member universities. For instance, the University of Information Technology piloted an artificial intelligence major while the University of Natural Sciences opened Management of natural resources and environment, Technology of physics, electronics and informatics; An Giang University launched Quality Assurance and Food Safety, Veterinary Medicine and Traditional medicine and nursing.
Vice Principal of the University of Food Industry in Ho Chi Minh City Thai Doan Thanh said that in 2023, the university planned to open five new majors namely Financial Technology, Data Science, Law, Logistics and Supply chain management, and E-commerce.
Similarly, many universities in the Northern region have also started to open many new fields of study, many of which are associated with digital technology. Specifically, the Hanoi University of Industry plans to open five new majors like renewable energy, smart manufacturing engineering, electronic engineering technology, bio-medicine, and linguistics. The Foreign Trade University will also open two new majors to be trained at the headquarters, namely political economy and international political economy.
According to the final report on enrollment in 2022 of the Ministry of Education and Training, there are 4 groups of majors most chosen by candidates including Computer and Information Technology, Business and Management and Technical Technology. Along with opening a number of new majors to meet social needs, some universities also stopped enrollment in some majors in which no students have enrolled for years.
According to education experts, universities have been offering new majors especially related to technology and digitization is in line with the development trend of socio-economic development.
Human resource forecaster Mr. Tran Anh Tuan, Vice Chairman of HCMC Vocational Education Association, said that in the current context, occupations are tending to change according to the needs of the industrial revolution 4.0. and associated with the digital era, so there has been wide interaction between employments nowadays not like that before.
Along with that, there have been many new occupations in the labor market; therefore, schools must also self-adjust and offer digital technology-related majors such as Artificial Intelligence, E-commerce, Public Relations, Event Organization, and Digital Marketing to well prepare for students in this era. Even businesses are integrating business and technology; as a result, majors in technology management, and medical engineering management are being launched.
Mr. Pham Thai Son, Director of the Center for Admissions and Communication of Ho Chi Minh City University of Food Industry, assessed technology trends are dominating while learners also enrolled in majors which are hybrids between technology and other technical disciplines such as food business administration, digital marketing, financial technology, data science and AI (artificial intelligence),
Pham Thai Son acknowledged and said that, along with new training programs, schools should have innovation and coordination of talented entrepreneurs, engineers, and people who have experienced and succeeded in many areas.
Meanwhile, according to education experts, when universities have the autonomy to open majors and set admission quotas, they must meet the Ministry of Education and Training's regulations on opening training majors and regulations on determining targets.
Education experts also advised learners that before committing to a major, students should consider several factors, including the program cost and the employment rates in that field of study. In addition, learners should think about their personalities and interests.