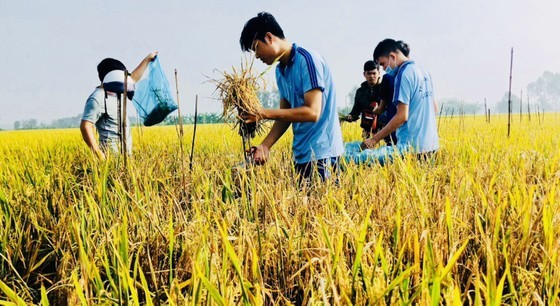 Agriculture students are studying on rice field
According to the report of the Ministry of Education and Training, in 2022, the enrollment rate between major groups has a large difference. Specifically, while Business and Management groups accounted for 24.54 percent, groups such as Natural Sciences accounted for only 0.44 percent, and Mathematics and Statistics accounted for 0.4 percent of the enrollment rate. There are 45/220 undergraduate majors with a low enrollment rate; for instance, Agriculture, Forestry and Fisheries, Life Sciences, Natural Sciences and Social Services continued to top the list of very low enrollment fields over the past 3 years.
According to information from the Ministry of Agriculture and Rural Development, from 2016 to 2020, students registered in the faculties of Agriculture, Forestry, Irrigation and Fisheries decreased by over 30 percent compared to the 2011-2015 period. In recent years, some traditional agricultural industries have had few, or even no, students enrolled despite low benchmark scores of these majors in the past 3 years ranging from 15 to 16 points, or just over 5 points per subject.
Assoc. Prof. Vo Van Thang, Principal of An Giang University - Vietnam National University in Ho Chi Minh City, said that in the last 3 years, the school's cut-off marks for the agricultural major were only 14-16. Although the scores are low, many schools reported low enrolment compared to quota.
Being a prestigious and strong school in agricultural training for the Mekong Delta, the Can Tho University also suffers the same fate. Benchmarks for the faculties such as Soil Science, Animal Husbandry, Agronomy, Fruit and Vegetable Technology and Landscape, and Agribusiness are quite low.
Similarly, in the enrollment periods from 2019-2021, benchmarks of the Vietnam National University of Agriculture (VNUA)'s majors including Plant Protection, Aquatic Pathology, Animal Husbandry, Animal Husbandry and Veterinary Medicine, and Agricultural Economics and Agricultural Development, Veterinary Medicine, Fisheries only from 15-18 points but the school can achieve the quota set by the Ministry of Education and Training.
In 2022, 11 students registered into the Geology faculty of the University of Natural Sciences - Ho Chi Minh City National University while the major has a quota of 100. Two years ago, 20 students registered to learn the Geology major. Furthermore, the Geoengineering major has an annual enrollment target of 30, but in the three years of 2019, 2020 and 2022, only 4, 9 and 10 students enrolled. In the faculties of Environmental Science, and Environmental Engineering Technology, the number of students decreased from more than 100 to over 60.
Elsewhere in Hanoi, many leaders of faculties of the University of Mining and Geology said that there is a shortage of students in the fields of Petroleum Engineering, Geology, Geodesy, Mines, and Environmental Protection after the announcement of the first round of benchmark scores in 2022.
Vice President of Ho Chi Minh City University of Agriculture and Forestry Tran Dinh Ly acknowledged there is an existing paradox that students refused to learn some professions despite the huge recruitment demand of large enterprises. Worse, the Life Science major is facing the most shortage of learners. Particularly, the forestry faculty is always difficult to have learners although the demand for human resources is very high. Some corporations have announced to sponsor all tuition fees to attract students into the faculty but schools have not met the set enrolment quota.
Dr. Tran Dinh Ly pointed out some reasons for the matter. Firstly, candidates and parents have not properly appreciated the importance of the Life Science group partly due to the communication and dissemination work is not enough to make them understand. Currently, science and technology are very developed, candidates tend to focus on industries that are known as "hot" without paying attention to recruitment needs, suitability and income after graduation.
Career counseling has not really met the needs of candidates and parents. Some career counselors are recruited from different sources, so they do not fully understand the future industries and professions.
Secondly, some video clips about occupations and career guidance were poorly built, without specific data, causing candidates to misunderstand the present employment in the Life Science major. In fact, these majors are currently very "hot" as corporations and companies often contact the school to recruit graduates.
Principal of Vietnam National University, Ho Chi Minh City Vu Hai Quan disclosed that his school has just signed an agreement with the People's Committee of the Mekong Delta Province of An Giang on strengthening cooperation in scientific research and technology transfer; cooperation in developing high-quality human resources for agriculture and rural development. However, through surveying and understanding the status of training in agricultural sectors, he was concerned because in the last few years, the cut-off mark in university entrance exams of these majors is only 14, 15 and 16 points, the lowest compared to other majors, but they do not fulfill the quota. The country is aiming for high-tech agriculture and sustainable and modern agriculture whereas it lacks human resources in the field.
According to representatives of many schools, to achieve the set objectives, it is necessary to have specific policies for human resource training in the agricultural sector. The first solution is to have an enrollment policy to attract learners, then a remuneration regime to attract human resources for the agricultural industry.