LONDON, Aug 7, 2011 (AFP) - The honeymoon period that Kenny Dalglish has enjoyed since his return to Anfield may not have yet run its course but the Liverpool manager is only too aware of the pressure to deliver this season.
After a two-season exile from the Champions League, Liverpool are determined to reassert themselves as members of the big four after being usurped by Tottenham and Manchester City.
Liverpool's American owners the Fenway Sports Group have maintained their side of the bargain by funding a 100-million-pound spending spree which has included the signings of Jordan Henderson, Stewart Downing and Charlie Adam.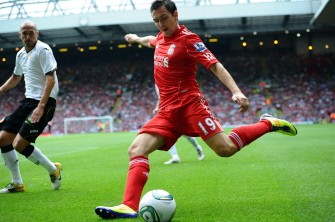 AFP - Liverpool's English midfielder Stewart Downing (R) makes his home debut during the pre-season friendly football match between Liverpool and Valencia at Anfield, Liverpool on August 6, 2011
Now it is up to Dalglish, who steered Liverpool to a respectable sixth place finish after taking over in January from Roy Hodgson, to ensure that the progress made at the end of last season does not stall.
"It's too early for us to start talking about winning the league," said Liverpool owner John W. Henry.
"In my opinion Manchester United (are the team to beat). They have a good squad and look good. Our main goal is to qualify for the Champions League. If we don't it would be a major disappointment."
With those words ringing in his ears, Dalglish will hope that his forays into the transfer market start paying dividends rapidly.
Several observers have questioned whether the likes of Henderson, who has yet to establish himself as a regular international, and Downing are worth their respective price tags, of around 20 million pounds each.
Yet Dalglish will feel that it has been money well spent if the crossing and set piece skill of Downing and Adam can help to realise the potential of Andy Carroll, who has endured a slow start to his Anfield career following his 35 million pound transfer from Newcastle in January.
Liverpool's pre-season form has been underwhelming, although the Reds have missed both captain Steven Gerrard (injured) and Luis Suarez (Copa America duty), both of whom are expected to be key players this term.
Most worrying for Dalglish will be the form of his defence, which has leaked 15 goals in five matches against relatively modest opposition.
"The important thing is we've got to be better when we don't have the ball, but the boys aren't shy of hard work," Dalglish said earlier this month after a 3-3 draw with Norwegian side Valerenga in Oslo.
Dutch striker Dirk Kuyt insists Liverpool's poor defensive form will be forgotten if they open with a win against Sunderland at the weekend.
"We are letting in too many goals but the point is we have to defend like a team. That starts from the front and we need to improve," Kuyt said.
"We know we have the ability and we just need to train really hard."
And while Liverpool will be missing from European competition this season for the first time in 12 years, veteran defender Jamie Carragher believes their absence may assist their push for a top-four place.
"The main thing for us is getting back into the Champions League," Carragher said. "Not being in Europe will give us a better chance of doing that. We want to get back in the top four and do well in the cups.
"Playing Thursdays and Sundays isn't ideal so there's a flip side to not being involved."