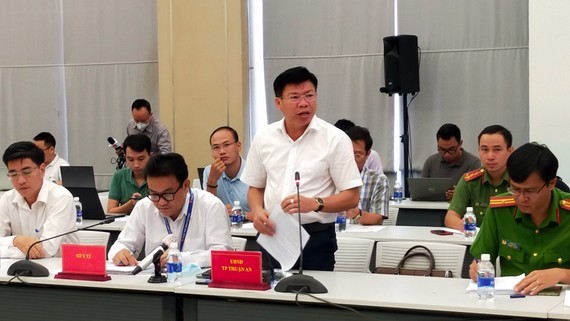 Mr. Nguyen Thanh Tam, Chairman of Thuan An City People's Committee at the press brief
Before reporting on the incident, Mr. Nguyen Thanh Tam, Chairman of Thuan An City People's Committee, sent his condolences to the relatives of the deceased victims and his greetings to the injured who are being treated in infirmaries.
Chairman of Thuan An City People's Committee reported on the incident that firefighters paid visits to karaoke parlors to check whether these facilities abide by fire safety regulations of facilities as well as to guide these establishments to maintain the fire safety conditions as prescribed.
Regarding security and order checks, Thuan An City Police have carried out administrative inspections five times, imposing fines of a total amount of nearly VND35 million for overtime activities, and not signing contracts for laborers.
Particularly in 2021, due to the Covid-19 epidemic, karaoke businesses are temporarily closed; hence, inspectors didn't check these facilities.
According to official information from Binh Duong Province's Fire Department, the number of deaths in the above particularly serious fire is 32 people including 17 men and 15 women. Moreover, 32 people were injured but two of them are staying at Binh Duong General Hospital and are expected to undergo emergency surgery on September 9.
According to Colonel Trinh Ngoc Quyen, Director of Binh Duong Provincial Police, on the morning of September 8, professional units of the Ministry of Public Security, together with the provincial police, examined the scene and clarified the cause of the incident. Simultaneously, police will conduct prosecution against the owner of An Phu karaoke establishment according to article 313 of the Penal Code on violations of regulations on fire prevention and fighting.
Currently, reporters will continue questioning authorities to clarify the cause of the incident.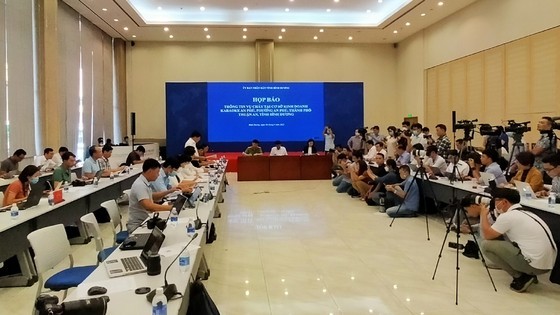 At the press brief