The Presidential Office on December 18 made public nine laws and two resolutions, which had been adopted at the 13th National Assembly's 10th session.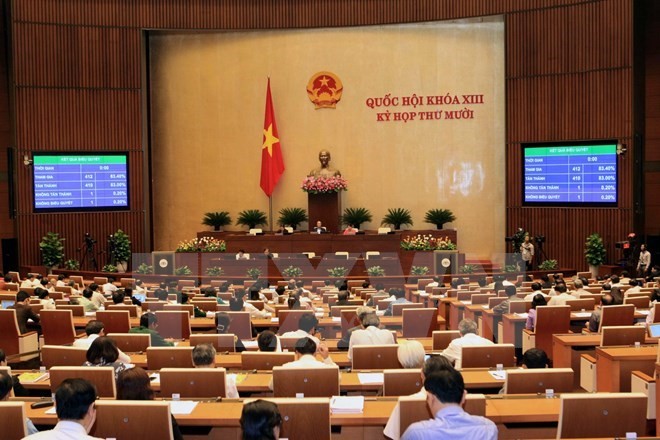 Law on Hydrometeorology approved at 13th National Assembly's 10th session (Source: VNA)
The laws are the Law on Cyber Information Safety, the Law on Supervising Activities of the National Assembly and People's Councils, the Law on Accounting, the Law on Statistics, the Law on Hydrometeorology, the Law on Fees and Charges, the Law on Referendum, the Law on Professional Military Personnel and Defence Workers, and the Maritime Code of Vietnam.
Meanwhile, the two resolutions are the Resolution on issuing regulations of National Assembly sessions and the Resolution on the ratification of the Protocol amending the Marrakesh agreement establishing the World Trade Organisation (WTO).
The Law on Statistics, which will take effect on July 1, 2016, includes new regulations to improve the quality and efficiency of statistical activities to meet requirements of the reform and international economic integration process.
It clearly stipulates the state statistical information system and statistical indicator systems at the national, ministry and local levels in order to ensure the consistency of the state statistics work.
The new Law on Accounting bans the establishment of two and more ledgers to prevent violations and frauds. The law requires the Government to start making a state financial report within 24 months since the law becomes effective on January 1, 2017.
The Law on Cyber Information Safety comprises eight chapters and 54 articles prescribing the cyber information safety issue, the right and responsibilities of offices, organisations and individuals in ensuring cyber information safety, and civilian encryption. It will be effective on July 1, 2016.
Meanwhile, this is the first time in the past over 100 years, all hydrometeorology activities in Vietnam will be adjusted by a law. The law was passed at the 10th NA session, one session earlier than scheduled, and will become effective on July 1, 2016.
The new Maritime Code will come into effect on July 1, 2017. Its 20 chapters and 341 articles stipulate policies relating to maritime development, ships, seaports, sea transportation and trade services, and maritime security and safety.