President Truong Tan Sang instructed authorities in the central province of Thanh Hoa to focus on administrative reform in order to attract more foreign direct investment.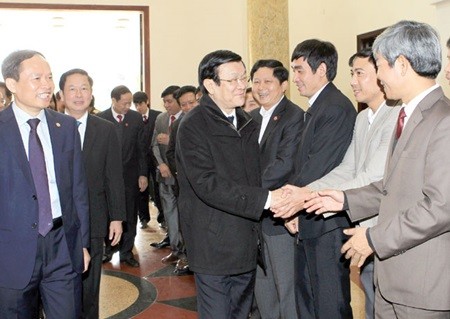 President Truong Tan Sang (centre) meets officials in central Thanh Hoa Province yesterday. — VNA/VNS Photo Nguyen Khang
During his fact-finding visit to the province yesterday, Sang said the province should pay more attention to developing key projects such as the Nghi Son economic zone and the Cua Dat hydropower and irrigation project with the aim of promoting the auxiliary industry and creating more jobs for local workers.
Sang praised the province for recording GDP growth of more than 11 per cent as the country's economy continued to suffer from the global economic downturn and encouraged the province to maintain this growth rate.
He also praised the province's efforts in developing programmes to improve living conditions for local farmers.
The provincial Party Committee Secretary Trinh Van Chien reported that the province recorded a growth rate of 11.6 per cent this year, fulfilling the yearly target. However, he said shortcomings remained such as low agricultural production output and poor infrastructure development, particularly in mountainous areas.
Thanh Hoa reports estimated per capita GDP of US$1,365 per year.
The province stands sixth in the provincial economic integration index and eighth in the provincial competitiveness index.
It ranks eight out of the 63 provinces for foreign direct investment (FDI). As of September, the province had attracted 50 FDI projects with total capital of over US$16 billion.
Its main industries are high-tech applications, manufacturing and processing raw materials, agricultural, forestry and fisheries, mechanical assembly and manufacturing electronic and telecommunications devices.