Plastic businesses said that they are in the verge of bankruptcy because of the unreasonable implementation of environment tax regulations at a meeting in Ho Chi Minh City on Friday.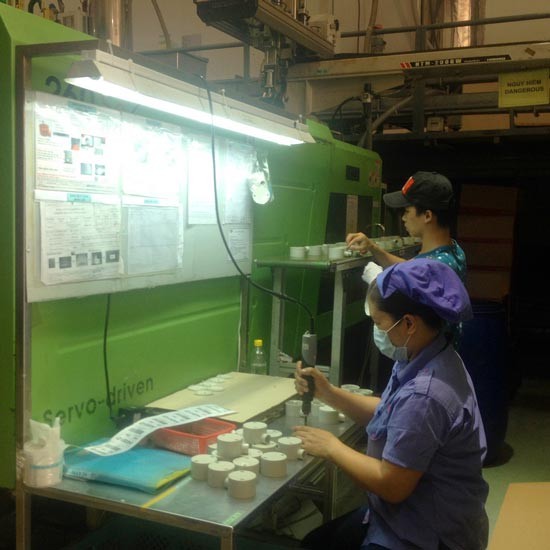 Cat Thai Plastic Company in HCMC (Photo: SGGP)
The problem flared up in 2012 when the Ministry of Finance issued regulations forcing plastic bag businesses to pay tax except those making packaging and environment-friendly bags.
The tax rate has been imposed as high as 100-200 percent of selling price and rocketed plastic bag prices. Consumers have not bought products from true businesses.
A survey by the HCMC Waste Recycling Fund shows that usage of normal plastic bags makes up 80 percent of the plastic bag market share and environment friendly products accounted for only 20 percent is for in supermarkets. The survey also shows that only trade centers and bookstores have used environment friendly bags.
Environment unfriendly products have a large market share because authorized agencies lack coercive measures to collect tax from producers.
Explaining for the issue in a document to the Vietnam Plastic Association, the Ministry of Finance said that environment tax is a self-declared tax. There have no coercive measures for those not making the tax declaration.
Most bio unfriendly bag producers are small production establishments and many of them operate without business licenses. As a result, it has been impossible to collect tax from them as from large licensed businesses, according to the document.
Besides, local plastic businesses are going to face a severe competition with foreign businesses. In 2015 Vietnam will carry out all agreements for WTO joining, cutting down tariffs on imported commodities to zero. Foreign plastic bag manufacturers may enjoy zero- tariffs in Vietnam.
The Ministry of Finance has yet to decide that whether it should impose environment tax on foreign bag producers or not. If foreign businesses do not have to pay this tax, Vietnamese plastic businesses will just register a death.