Due to bad harvest, the price of pepper rose to nearly VND200,000 per kilogram in provinces in the Southeastern region of Vietnam on March 15.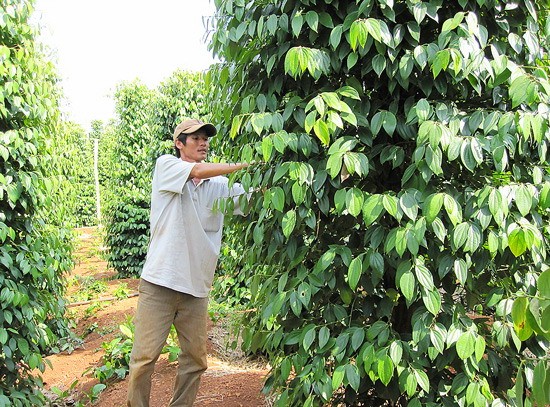 A farmer in Binh Phuoc Province's Loc Ninh District harvests pepper (Photo: SGGP)
In this year crop, all pepper growing countries are suffering poor harvest so production has dropped much lower than the International Pepper Community's expectation.

Data surveyed by the Vietnam Pepper Association in the Central Highlands and Southeastern provinces shows poorer pepper production compared to that in previous year. Accordingly, farmers in Gia Lai Province will possibly suffer biggest loss of 35-40 percent; about 30 percent for farmers in Dak Lak Province; and around 10-15 percent for those in Dak Nong and Binh Phuoc provinces.

However, the area of newly-planted pepper in these key pepper growing regions has been strongly expanded for the past five years. And now they are ready for harvest, especially in Dak Nong and Binh Phuoc provinces. Thus, production loss will be made up.

Vietnam accounts for 30 percent of total global pepper production and 50 percent of commercial volume in the global market. Therefore, if Vietnamese pepper growers suffer poor harvest, global market will be heavily affected, said Association.
Hence, the association warned that farmers and businesses should stay calm to have control of the market as global market is still lacking in pepper. In addition, the price of pepper is expected to reach as high level as it did in late 2014.