US defense chief Leon Panetta paid tribute Friday to Canada's "tremendous work" in Afghanistan, acknowledging the sacrifices made by America's northern neighbor in the 10-year war.
Canada, which once had about 3,000 soldiers in Afghanistan, officially ended its combat mission there in July, after losing 157 lives and over $11 billion since 2002.
The war also killed one of its diplomats, two aid workers and a journalist.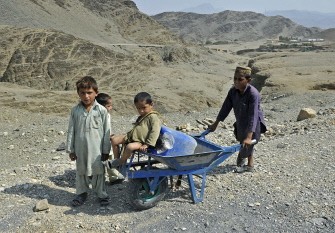 Afghan boys look at US army soldiers from HHB 3-7 Field Artillery Regiment 3rd Bct 25th ID patrol during their mission in Turkham Nangarhar, bordering Pakistan, on September 30, 2011.
A separate Canadian training mission involving 950 troops is working in northern Afghanistan to help build the fragile Afghan security forces. Canada will also continue to give aid to Afghanistan, with its overall involvement between now and the end of 2014 expected to cost around $700 million a year.
"In Afghanistan, the Canadians are doing tremendous work, providing trainers, they have a presence in Kandahar," Panetta said after meeting at the Pentagon with his Canadian counterpart Peter MacKay for an hour.
"Canada is one the NATO countries that suffered the most in terms of those who lost their life. And we pay tremendous respect to Canada for the sacrifice that they've made."
He also saluted Ottawa's partnership with the United States in Libya as part of a NATO campaign against the regime of long-time leader Moamer Kadhafi.
"Canada and the United States have in my view the best relationship on the planet that really sets a gold standard for other countries around the globe," said MacKay, stressing the "special relationship" between the neighbors.
He repeated Canada's request to purchase American F-35 jet fighters, whose development costs are proving far higher than initially anticipated.