The Oct. 11-15 official visit to China by Party General Secretary Nguyen Phu Trong is aimed at further boosting the Vietnam-China comprehensive strategic cooperative partnership.
Since the two countries nomalised their relations in 1991, the Vietnam-China friendship and cooperation for mutual benefits have developed rapidly and deeply in all fields, bringing practical benefits to both sides.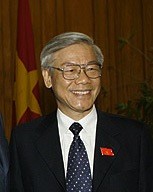 Party General Secretary Nguyen Phu Trong
Up to now, Vietnam and China have signed many governmental-level agreements and other cooperation documents, laying a legal foundation for long-term cooperation between the two countries.The exchange of delegations at central and local levels has increased constantly. Every year, the two sides exchange over 100 delegations of leaders of ministries, sectors and localities and mass organisations, contributing to boosting mutual understanding and trust as well as expanding bilateral cooperation.The two sides have set up the Steering Board for Vietnam-China Bilateral Cooperation.Cooperation between the two parties has also been strengthened. The two parties had close and effective cooperation in experience exchange, theoretical study, and personnel training.Cooperative ties between the two countries' important sectors, including diplomacy, national defence and public security also saw expansion with the signings of cooperation agreements between the two foreign ministries in 2002, public security ministries in 2003 and national defence ministries in 2003.The relationship between the two localities has also been enhanced with the exchange of delegations at all levels, the signing of cooperation documents and the organisation of seminars and exhibitions. Leaders of Guangxi and Yunnan provinces pay visits to Vietnam every year to boost their relationship with Vietnam's border provinces and other localities.China has been Vietnam's leading trade partner since 2004 with two-way trade reaching almost 16 billion USD in 2007, compared with the target of 15 billion USD in 2010 set by the two countries' leaders. The figure exceeded 27 billion USD in 2010 and reached 15.7 billion USD in the first half of the year.By July 2010, China had operated 805 investment projects in Vietnam with a combined registered capital of almost 4.2 billion USD, ranking 14th among 92 countries and territories investing in the country.In addition, the Vietnam-China cooperation in education, training, culture and sports has also been accelerated.During Party General Secretary Nguyen Phu Trong's visit to China, the two countries' leaders are expected to discuss bilateral cooperation, especially in economics, trade, investment culture and education.