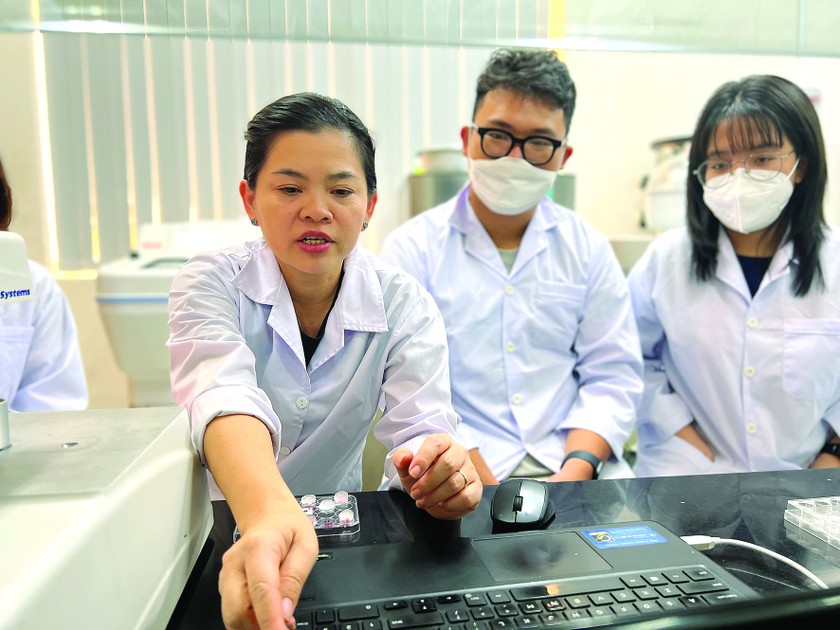 Associate Professor Nguyen Thi Hiep is instructing students
Their return is likened to a solo trip of aspirational dedication because Vietnam is not an ideal name for researchers. Those who choose to return often receive advice full of anxiety, the look of regret from those who stay.
One of the returnees is Associate Professor Nguyen Thi Hiep, Dean of the Faculty of Biomedical Engineering at International University. Looking back on her 10-year journey, she said it is like a movie to explore the aspiration inside every Vietnamese person.
Ten years is not long, but it is enough for her to answer the question of 10 years ago whether she should stay or return.
This female scientist, born in 1981, said that, in the last days of 2012, after successfully defending her doctoral thesis in Korea on regenerative medicine, she was very concerned about whether she should return home or not because at that time regenerative medicine was so new in Vietnam.
While she had a big opportunity if she stayed in Korea and even she could work in America. Surfing the internet to search for 'Biomedical Engineering' in Vietnam, she found the information that Professor Vo Van Toi, who was honored by American University as the best professor at the time, was planning the establishment of this subject at the International University in Vietnam.
She returned to her home country to meet Professor Vo Van Toi to find out what is available about Biomedical Engineering. When arriving at the location, she found out it has only an office and a laboratory. The laboratory also has only electronic equipment whereas Korea has cell and nano.
She expressed her worry about what she could do in such a condition; however, Professor Vo Van Toi told her what no one has done in the country, what is not available in the country, Vietnam needs scientists like her. If they don't pioneer, who will?
Professor Toi advised her to think as he said that either they do it for the next generation or pass the responsibility to the next generation. When she returned to Korea, the elderly professor constantly sent emails to convince, encourage and point out many possible directions if she would return.
She recalled that while walking on the familiar road from school to the dormitory, she missed the warm sunny winds of Saigon and decided to call home, close her suitcase, register for a plane ticket, and write an email to the professor. She took decisive actions as a way for her to strengthen her determination to return.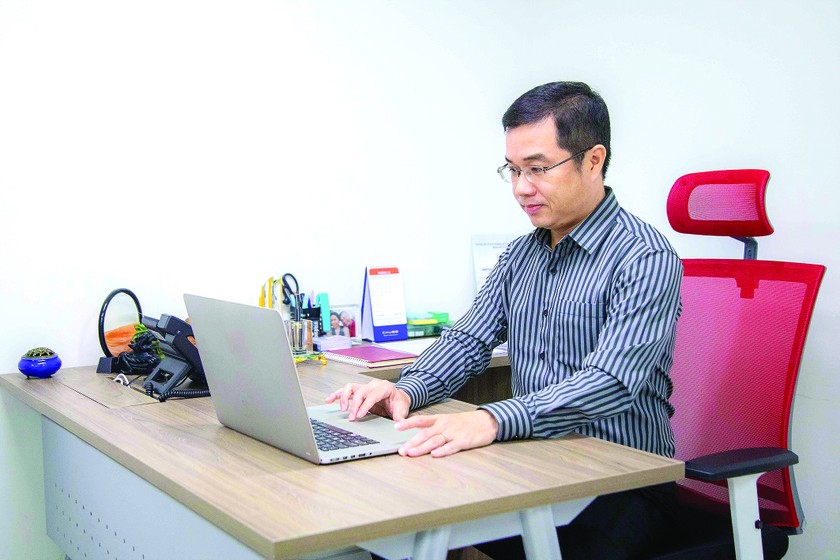 Scientist Nguyen Thoi Trung
To start the field of regenerative medicine from scratch, she went to hospitals to exchange and seek support to realize the idea of researching and inventing an antibacterial glue to help heal wounds and improve treatment efficiency. The idea was obviously good, but no infirmary dared to invest as she had no reputation at that time and she had not won any awards. It was Professor Vo Van Toi who made a loan application to support her with VND1 billion which proved his belief in his young collaborator.
It took four years that her great efforts have been rewarded. In 2016, she was awarded a patent by UNESCO for the topic of improving receding gums with collagen fibers and electrochemistry. In 2018, she announced the invention of an antibacterial gel to stop bleeding, kill bacteria and temporarily heal wounds.
For the invention, she was awarded the World Young Talent Award by L'Oréal - UNESCO for first aid solutions for people living far from hospitals. In 2019, she won the first prize in the Innovation Award of Ho Chi Minh City. Moreover, the ASEAN Scientist Magazine voted her as one of the top 100 scientists in Asia in 2019.
So far, Professor Nguyen Thi Hiep has had more than 100 prestigious publications and nearly 100 other publications. Her most pride is that the Faculty of Biomedical Engineering now has 12 laboratories where 20 lecturers who are all PhDs from abroad are working.
Another scientist who receive schooling abroad returned to work in Vietnam. Scientist Nguyen Thoi Trung had many times doubted his success. He was wondering whether he could find a suitable path for himself to adapt to the conditions of doing scientific research in Vietnam.
Before becoming a doctoral candidate at the National University of Singapore, he was a postdoctoral fellow with 30 ISI papers and one international book published. He graduated with an excellent doctorate with the best Ph.D. Thesis Award and the opportunity to continue to do post-doctoral research abroad.
A return to Vietnam also means he will face challenges including setting up a fund to support scientific researchers or lecturers and building the necessary minimum conditions to assemble a team of collaborators who can focus on doing research. He researched, taught at the school, and found a way out for the research team simultaneously in the beginning time after returning. He disclosed that the biggest difficulty is seeking sources of finance to maintain and retain talented students and trainees who are passionate about scientific research.
He recalled that he had no money to support young researchers sometimes. His house was used as a place for carrying out research and accommodation for young people of the research group, and his wife always encouraged him to do what he had to do as well as spent money buying food for the group.
In 2010, he successfully registered for a scientific research project funded by the National Foundation for Science and Technology Development (NAFOSTED) under the Ministry of Science and Technology. At the same time, Dr. Nguyen Thoi Trung and a few classmates were invited by a university to build a research group.
With good publications in ISI journals and good citations, his team gained trust; therefore, they were working in a lab equipped with machinery for research.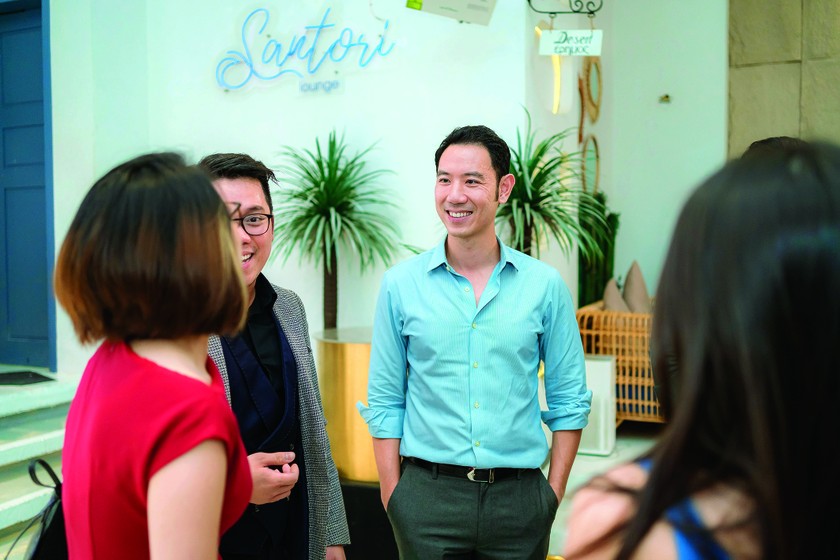 Vu Duy Thuc in blue shirt
In 2013, he was recognized associate professor by the State Council for Professor Titles. In 2014, he led a research institute specializing in computational science under the Vietnam National University Ho Chi Minh City.
In 2022, he started achieving international achievements. Assoc. Prof. Nguyen Thoi Trung was honored to be invited to be a Member of the Editorial Board of a very prestigious magazine, Computers & Structures Elsevier, a leader in information and analytics for customers across the global research and health ecosystems. In October 2022, he was listed in the ranking of the top 100,000 most influential scientists in the world released by the U.S. Stanford University professors' METRICS research activities and initiatives.
However, he paid little attention to what he achieved but to what he can do for the country.
By August 2022, when he was appointed to be the Director of the Institute of Computational Science and Artificial Intelligence of Van Lang University, the concept of success as per his definition was clearer. It's not just about conquering the career ladder but embracing the desire to go beyond his own. He said that Vietnam needs a strong research environment, from scientific research policy regulations that can help scientists promote individual and collective research capacity, to effective management system results at all levels; thereby, attracting Vietnamese scientists back to the country to contribute, and at the same time enticing foreign scientists to work together.
Sitting in the 6-square -meter office, this scientist is mapping out visionary policies for the next 10-20 years. He pointed at some of his colleagues revealing that the white guy is a Russian Ph.D., next to him is an Indian Ph.D., and the other 10 are high-quality Vietnamese scientists who have just graduated from Vietnam.
The last scientist deciding to return to Vietnam in this story is Vu Duy Thuc. When it comes to Vietnamese keywords - Silicon Valley – Al, people all mention him. He is the first and only Vietnamese to be honored by a prestigious American business magazine as one of the 40 most influential people under 40 in Silicon Valley in 2017.
It is not easy for a Vietnamese intellect to shine in the land of giants who hold the spirit of initiating technological innovation in the world. Vu Duy Thuc is convinced of the technology elite by continuously conquering higher levels. He received his Ph.D. from Stanford University (USA) when he was only 28 years old.
As the founder of OhmniLabs, giving birth to generations of Ohmni robots to break the stereotypes of machine robots, Thuc's robot goes deep into caring for the health of the elderly, supporting teaching, and helping nurses in hospitals. After OhmniLabs, TS. Vu Duy Thuc continues to establish the Kambria project – a collaborative ecosystem on the blockchain platform to connect 3 elements of inventors, manufacturers and users to promote the application of advanced, scalable robot technology.
In November 2022, the Vietseeds Scholarship Fund supporting Vietnamese students with difficult circumstances to pursue university, founded by Thuc, celebrated its eleventh anniversary.
The first scholarship recipients have graduated gaining success and they continue to contribute to the fund for continued support for the next generation of young people. Last but not least, VietAI, an NGO co-founded by Vu Duy Thuc, also aspires to build a talent network in the field of AI in Vietnam. Seminars and training sessions have been organized to look for good engineers. Recently, being an Investment Director of Do Ventures Fund, he became the one who sows faith and strength for startup projects in Vietnam.
Vu Duy Thuc has a great aspiration to bring Vietnamese intellectuals to the world. The more he travels, the more aware he is of his personal heritage, the heritage of history, geography and national culture.