The government is offering relief to salt farmers who are in perpetual quandary at declining salt prices by asking the Ministry of Agriculture and Rural Development to purchase salt outright from farmers.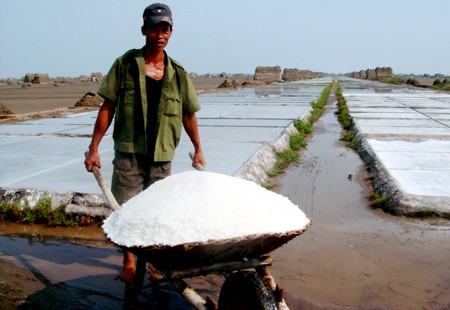 Farmers are happy with the new project that will purchase salt from farmers at reasonable rates (Photo: SGGP)
The Ministry of Agriculture and Rural Development (MARD) will make outright purchase of salt from the farmers to produce iodized salt.
For years the salt farmers have worried over the continual drop in prices and while their warehouses lay stocked with unsold salt, the Ministry of Industry and Trade still permitted the import of salt.
The ministry yet said it allowed the import of industrial salt.
Each time salt is imported into the country, prices decline drastically. Moreover, because of lax monitoring and management, the South Basic Chemicals Company took advantage of the allowance given for import of salt, as per preferential tariff incentives of 15 percent, and converted industrial salt into table salt avoiding also the tax of 50 percent on table salt.
The South Basic Chemicals Company has sold more than 23,000 tons of table salt in the market, causing a drop in salt prices across the country.
An Van Khanh, deputy head of the Department of Agro-Forestry-Aqua Products Processing, Trading and Salt Industries under MARD, said the volume of salt allowed to be imported into Vietnam in 2011 is 102,000 tons for three companies including the South Basic Chemicals Company, Viet Tri Chemical Joint-Stock Company and Vedan Vietnam. Till now, 50,000 tons has been brought into the country by the three above companies.
Other enterprises imported around 152,000 tons on their import quota. As a consequence, in 2011 although Vietnamese farmers made 67 percent more salt compared to that in 2010, a large quantity of 216,000 tons was stockpiled in warehouses.
Ho Xuan Hung, Deputy Minister of Agriculture and Rural Development, said if Vietnam cannot balance salt imports, it will destroy the market in the country.
MARD therefore submitted its project to buy salt to help farmers and the government has approved the plan.
The Food Corporation in the North will monitor the project. It will purchase around 200,000 tons of salt annually at a sustainable price so that farmers can earn around 20 percent profit. The company will manufacture approximately 133,000 tons of iodized salt per year and will provide 22,664 tons of salt gratis to residents in the mountainous areas of the country and the rest will be sold in markets.

Related article:
Mekong Delta salt farmers in despair over drop in prices