Six Vietnamese non-governmental organisations set up a network for migrant workers called M.net, which aims to help migrant workers receive better social welfare services and voice their opinions on political issues.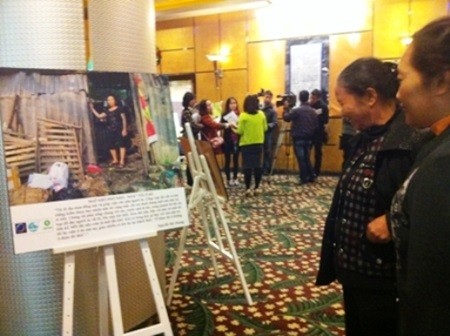 Migrant workers see photos about their life and livelihood in cities. Six local non-governmental organizations set up a network to help migrant workers better receive social welfare. — VNS Photo Bich Huong
M.net was officially introduced yesterday in Ha Noi. The six founding members are the Institute for Community and Health Development (LIGHT); the Centre for Development and Integration; the Research Centre for Gender-Family and Community Development; the Institute for Policy Studies, Law and Development; the Viet Nam Judicial Support Association for the Poor; and the Center for Social Work Community Development Research and Consultancy.
According to the General Statistics Office, in the last decade, migration from rural areas to urban areas increased, from two million migrants in 1999 to 3.4 million in 2009. The increase is expected to continue to 5 million in 2019, accounting for five per cent of the country's population.
LIGHT Vice Director Nguyen Thu Giang said about 90 per cent of migrant workers in the informal sector hardly receive social welfare benefits such as healthcare, education, housing and clean water.
M.net wanted to find barriers that stopped migrant workers from receiving such benefits, help them access public services and connect them with policymakers in their host localities, she said.
Senior Programme Co-ordinator on Governance Nguyen Thu Huong of Oxfam in Viet Nam, which supported the network's establishment, said it was introduced at the right time. Migrant workers contributed to urban development but weren't able to access any sort of Government safety net.
Tran Thi Khanh, 43, a scrap-iron dealer from the northern province of Hung Yen, said she and her family moved to Ha Noi 10 years ago, rented a room and sent their children to private school.
"I have to send my children to private schools with tuition fees much higher than that in public schools, because we have no residential registration book in Ha Noi, so my children cannot attend public schools," she said.
Another migrant, Ta Thi Ngot, 64, said migrant workers like her did not get health insurance cards.
She said she wanted to get health insurance and needed help applying for a card.
Yesterday M.net opened an exhibition displaying photos taken by street vendors and scrap-iron dealers in Ha Noi. It was part of a project LIGHT ran from July 2014 to December 2016 to support street vendors and scrap-iron dealers in Ha Noi's Hoan Kiem and Nam Tu Liem districts.