The material source of Vietnam's garment and textile industry has long depended on imports while local businesses are short of capital to invest in this field, making them unlikely to enjoy tax incentives from Trans-Pacific Partnership (TPP) agreement which is expected to be signed this year.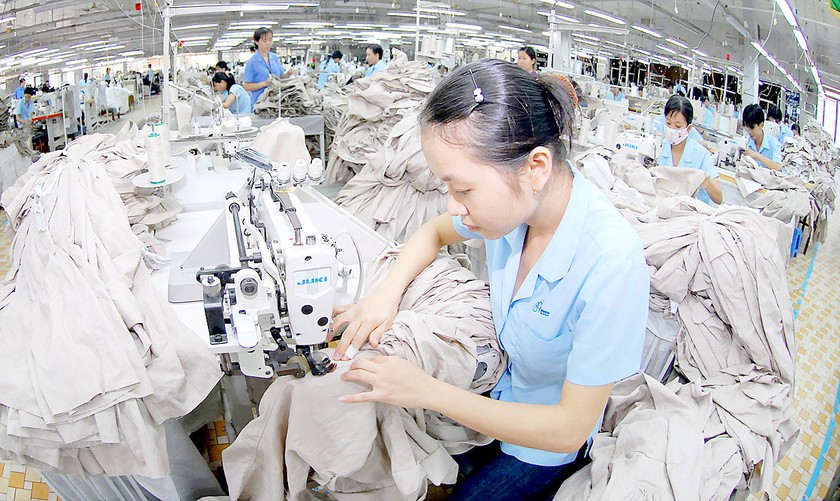 Vietnam's garment and textile materials are mainly imported (Photo: SGGP)
TPP will benefit those using materials made in their countries or in TPP member nations.

Director General of Gia Dinh Textile and Garment Corporation Le Dong Trieu said that garment and textile materials have mainly been imported from China, Japan and South Korea. This has become a big challenge for Vietnamese businesses to access benefits from TPP.

Statistics by Vietnam Textile and Apparel Association (Vitas) shows that 60-70 percent of materials for the garment and textile industry is imported and 80 percent of businesses in this industry are doing outwork, resulting in low added value.

Chairman of Saigon Garment Company Le Quang Hung said that all Vietnamese businesses know that materials are a survival factor of the industry but capital shortage has kept them from developing production.

A few millions of U.S. dollar is enough to build a large scale garment plant while a fiber weaving machine needs the same amount. With the current financial condition of most companies, they can not take risks to invest in a material production plant, he cited.

Besides, material production has also faced with stricter environmental regulations.

Since 2003, Ho Chi Minh City has limited licensing weaving and dying projects. They have been listed as one of 17 fields polluting the environment. Some plants can not exist because they fail to meet waste water standards.

On the other hand, most of the plants had been established before the city set up industrial and export processing zones. As a result they are now located in residential areas and forced to remove because of the increasing population.

At present, only Vietnam National Textile And Garment Group (Vinatex) is able to build material production plants. Three fibre plants have been put into service and four others are under construction.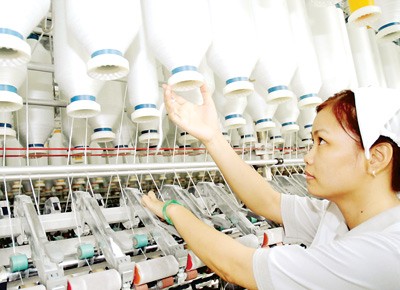 Vietnamese garment, textile companies should invest in material production to take advantage of tax incentive from TPP (Photo: SGGP)
Chairman of Saigon Garment Company Le Quang Hung, however, said that even when all these plants come into operation, they can also supply materials for Vinatex subsidiaries.

Foreign firms have rushed to construct material plants in Vietnam to wait in front for tax incentives from TPP, said Mr. Vo Tri Thanh, deputy head of the Central Institute for Economic Management.

Chinese garment and textile giant Jiangsu Julun Textiles Group have built a US$68 million self-contained plant which can produce fibre, weave and dye. Forever Glorious of Taiwanese Sheico Group has spent US$50 million on a weaving-dyeing-garment production chain.

According to Mr. Thanh, the Government should have policies assisting businesses to develop material production so that they can take advantage of TPP.

Many businesses said it is necessary to plan a garment and textile material zone with clear environmental regulations.