Long gone glory days
Before 2010, railway employees all enjoyed fat salaries, and the run to get into the industry during its prime sometimes involved a lot of palm-greasing. One could even support a whole family on monthly wages as a railroad worker during the French colonial period. For the last 10 years however, the railway industry is no longer a worthy opponent for airlines and inland transportation and commerce. Railway passenger conveyance accounted for 11.7% of national transport in 1995, while goods shipment made up 7.9%. Currently, the total market share for both categories is a mere 1%. Conductors usually yield the highest income among the industry's workforce. A chief conductor on Hanoi - Lao Cai track, Mr. Nguyen Huu Nam said his monthly wage was VND15 million/month, which comes with at least a decade of experience and the added "bonus" of less family time.
Signal maintainers' makeshift kitchen on Khe Net section, Quang Binh (Photo: SGGP)
Most young people opt out after just a couple of years working due to salaries being almost non-existent. The average wage of cabin attendants is about VND5 million per month (about US$219), while that of signalmen can drop to VND3 million per month (about US$132), according to Mr. Nguyen Anh Tuan, Branch Director of Dong Anh Railway. He expressed concern over the liable lack of new recruits in the next few years.
Strenuous side jobs The railway industry's lower market share naturally results in low wages, and railway workers must take up various side jobs just to make ends meet. A ticket collector and cabin salesperson revealed that her salary working on the train was VND4 million per month (about US$175), while she could make VND6 million (about US$263) from part-time jobs. After deductibles are taken into account, that net income can drop to VND1 million (about US$43) some months. Many chief or deputy chief conductors must also work part-time as Grab riders to provide for their family.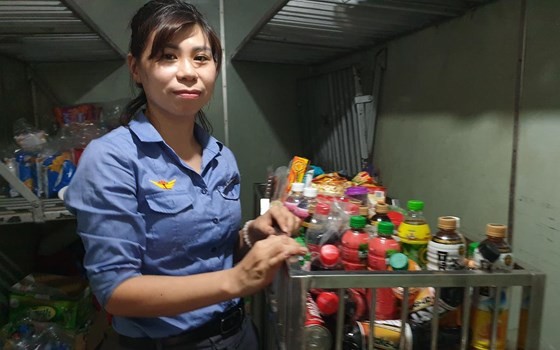 Huong Thi Minh Thu, member of the Hanoi-Dong Dang train team who earns VND6 million from side jobs (Photo: SGGP)
Nguyen Thi Thanh Huyen, formerly a station secretary at Vinh station (Nghe An), said that due to lack of works, employees were forced to take a one-month non-paid leave every 3 months, while still having to pay for social insurance and pension.

When asked about the number of railway workers forced to take non-paid leaves on rotation, Vietnam Railways had no comment.Salary retained for "bonuses"
Annual reports from railway maintenance and transportation companies always state that an average worker gets paid VND8 million (about US$350) per month. By calculation, an annual budget of VND2,592 billion (about US$113 million) for 27,000 workers would be at play. In reality however, that speculation might be nowhere near the amount workers are receiving. According to an anonymous cook on Lac Son section, she had only been getting half of that estimated VND8 million. Her employers would retain 20% of the monthly wage and return the sum at the end of the year. The unnamed cook said she got VND11 million back last 2018.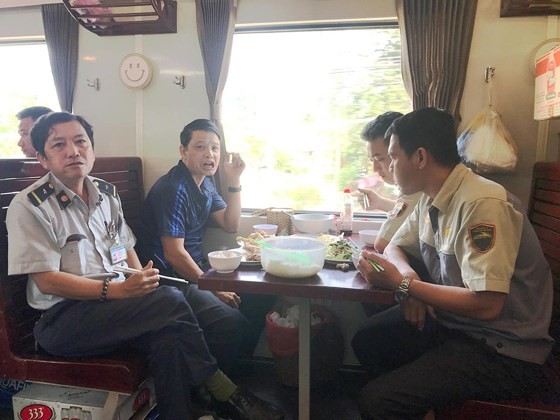 Crew members of the SE4 train with their thrifty lunch (Photo: SGGP)
The kitchen at Lac Son railway section is a decrepit log storage next to a blackened furnace. Lunch for the 18 crew members were being cooked when SGGP's reporters stepped in. A rail guard downed his lunch before everyone else and stepped back outside into the scorching heat. His sweats dripped along the sweltering metal rails, truly disconnected from the bustling city and all its glory. At present, the Vocational College of Railways is trying to promote admission to seek future employees. The school offers tuition fee exemption and promises job security at railway companies after students complete their studies.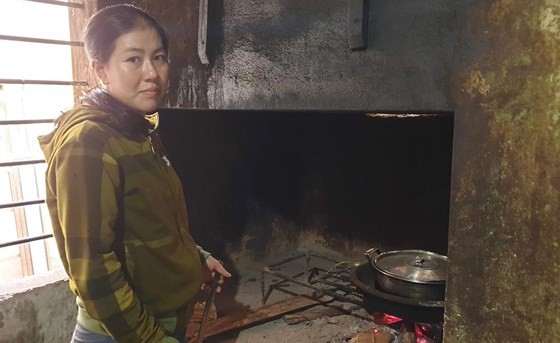 The kitchen looked like a remnant from 1990 (Photo: SGGP)