The only parts that make up this Hanoi-Dong Dang train are the driver's compartment, two passenger cars - only one of which is air-conditioned - and an archaic freight car. The train departs from Long Bien station on weekdays and from Hanoi Train Station on weekends to Dong Dang town in Lang Son province.
Tickets for a seat on the priciet part of this train, which is the air-conditioned car with cushioned chairs, are sold at a "whopping" VND89,000 (about US$3.8). The route is 162km long, treading across Hanoi, Bac Ninh, Bac Giang and Lang Son, stopping at every halts to hopefully come across passengers.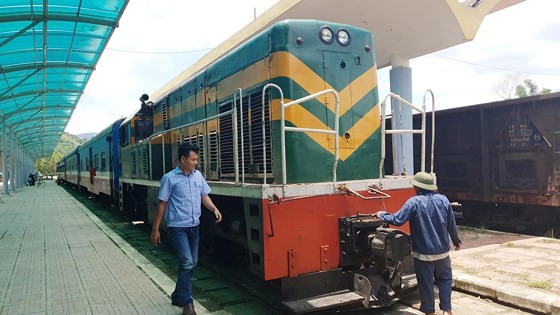 The barely occupied platforms. Photo: SGGP/MINH PHONG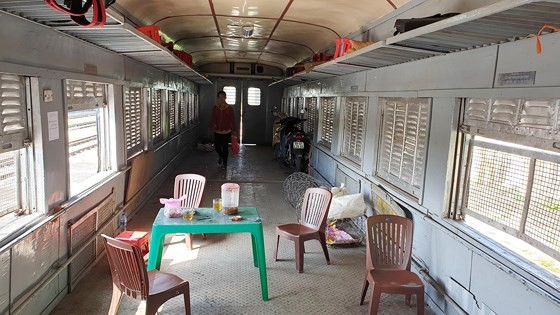 The mostly empty passenger cars. Photo: SGGP/MINH PHONG
When the train paused at Pho Trang stop near Bac Giang province, the spirits of boarding passengers seemed almost as stagnant as the air in those empty cars. Only when a woman climbed aboard with five quacking ducks did the scene lightened up a bit, and everyone's sluggish mood seemingly faded, albeit for just a short while.

On average, each daily trip can pick up some dozen passengers. "I always wait till we reach the final station to count the money; that's when it's added up to a fulfilling amount", said the conductor Nguyen Van Tuan, one of the 15 staff members onboard.

Arriving in Dong Dang after a nearly 5-hour ride, Tuan reported that they earned a total of VND2.986 million (about US$128.5) for the trip. As for the return trip, that number dropped to VND2.7 million (about US$116.2).
Slow and desolated ride
The Yen Vien (Hanoi) - Ha Long (Quang Ninh) route is 163km in length, with running time of up to 7 hours at a speed of 20-40km per hour. People had thought that the newly built private airport in Van Don would attract more train passengers, but that apparently was not the case.
The train departs at dawn every day, carrying five staff members and three small traders that are frequent passengers. SGGP's reporters were told by the ticket collector that no tourist or regular passenger would ever board this train.
According to the conductor Nguyen Trung Ngan, the only people that take the train are small traders and people with motion sickness. Daily ticket sales usually bring in VND4 million (about US$172.3).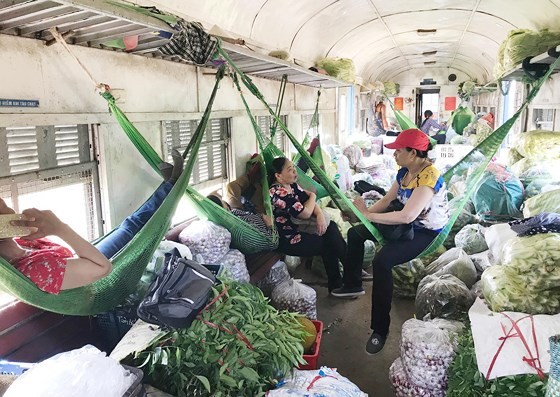 Travelling merchants set up hammocks to look after their goods. Photo: SGGP/MINH PHONG
A promising new track was setting in motion in 2005, aiming to connect Yen Vien, Pha Lai, Ha Long and Cai Lan stations with trains that would travel at 120km per hour, but was delayed and eventually aborted altogether.
Aimed to connect international railways to China and then Europe, Hanoi - Dong Dang was the first rail route in Vietnam with an additional 1,435mm gauged railway. It was reasonably expected to promote both trading efficiency and tourism.
The 1.435mm gauge was put into commercial use from May of 2015 and helped shorten the Hanoi - Dong Dang trip from 5.5 hours down to 3.5 hours.
In reality however, it could not make up for all the lost passengers, and the railway had to be discontinued in September of 2016, with only the 1,000mm gauge train still running. In the period of 2016 and 2017, the track has lost more than VND20 billion (about US$860,000). Its estimated revenue for 2019 is a humble VND1.8 billion (about US$77,000).
In 2017, the Yen Vien - Ha Long saw 724 trips with a revenue of almost VND2 billion (about US$86,000). But once all maintenance and management costs were taken into account, the actual amount left is negative VND14 billion (-US$601,000). The estimated revenue for this track in 2019 is about 1.4 billion (about US$60,100), notwithstanding production and business costs of more than VND11 billion (about US$472,000).
Since 2016, both the Vinh - Dong Hoi and Hue - Dong Hoi tracks have also been put out of service due to financial losses.
Relatively speaking, currently there are some dozens travel agencies that have signed long term whole-car lease contracts on these trains, mainly for touristic purposes. For the Hanoi - Lao Cai train, a ticket from these agencies costs around VND600,000 (about US$25.8), some even reaching VND2.1 million (about US$90.2). The fact that investors can still maintain their business with such high ticket prices more or less proves that short distance trips with improved service are still popular with tourists.