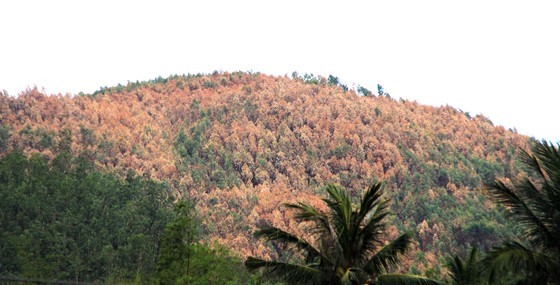 Fire destroys tens of hectares of acacia of households in Trung Trinh village in Xuan Phuong Commune of Phu Yen Province (Photo: SGGP)
In the dispatch, the Prime Minister asked chairpersons of people's committees of provinces and cities to be responsible for fire prevention and fighting in the area under their management for minimizing the damage from forest fires and implementing several important tasks.
On May 24, the Steering Committee for Disaster Prevention and Search and Rescue in the Ca Mau Province in the southern tip of Vietnam announced to take preventive measures to cope with the risk of heat, drought, water shortage, saltwater intrusion, and the risk of forest fire in 2023.
The Board of Directors of the U Minh Ha National Park said that they have been strengthening solutions to be proactive in fire prevention and fighting. The park has been coordinating with other forces and local administrations to implement fire prevention for enhanced forecast and understanding of the situation in the province.
In addition, increased information on wildfires was done to raise awareness of households in the buffer zone of U Minh Ha National Park which will help to cope with all situations to minimize the risk of forest fires.
Mr. Tran Cong Danh, Deputy Director of the Department of Agriculture and Rural Development of the Mekong Delta Province of Kien Giang, said that from May 19 to 24, the province had rehearsed the operation to close all saltwater sluices in the area, including two culverts Cai Be and Cai Lon. At the same time, the Department checked freshwater levels in ponds, lakes and canals for paddy fields and shrimp farming.
In addition to operating culverts and dams in the area, Kien Giang Province also coordinated with An Giang Province to operate the Tha La-Tra Su sluice system to get fresh water for paddy fields in Tan Hiep, Hon Dat and Kien Luong districts.
According to the Southern Institute of Water Resources Research, water supply from the Mekong River to the Mekong Delta region is facing adverse conditions caused by El Nino, heatwaves, and low rainfall. El Nino starts from May to July 2023 and El Nino is forecast to worsen in the next time.
Hence, expert Nguyen Huu Thien who studies the ecology of the Mekong Delta, said that for the short-time strategy, the best adaptation is to adjust the cropping calendar to avoid damage during the year with extreme drought and salinity. Residents in the coastal areas should restore freshwater for their daily activities during the dry season of 2023. Local governments should take heed of water supply for people in coastal districts especially El Nino bringing extreme weather.
The prolonged hot weather has caused drought and saltwater intrusion in most of the central regions. In addition, people in mountainous areas are at this time distributing vegetation for new afforestation, making the risk of forest fire very high. Accordingly, competent agencies and localities have taken measures to cope with the risk of wildfires.
In recent days, heatwaves have been sweeping the central provinces of Quang Ngai, Binh Dinh, and Phu Yen greatly affecting the lives and farming of local people. In the middle of a dry field in Trung Trinh village in Xuan Phuong commune of Phu Yen Province's Song Cau town, farmer To Van Kiet struggled to pump groundwater to irrigate the elephant grass, moaning the sun was as fierce as fire, no one dared to work in the field.
Worse, from the end of April until now, saline water has entered the Thu Bon and Vinh Dien rivers in Quang Nam Province's Duy Xuyen District and Dien Ban town with high concentrations, exceeding the allowable threshold by 20-30 times, so many pumping stations stopped their operation.
Mr. Truong Xuan Ty, Deputy Director of the Department of Agriculture and Rural Development of Quang Nam Province, said that the provincial People's Committee had directed Tam Ky City and Dien Ban Town to build dams to prevent saltwater and keep fresh water in Vinh Dien and Ban Thach rivers.
Meanwhile, people in mountainous areas of Quang Nam province are clearing land, clearing grass and burning vegetation to plant forests, posing a high risk of forest fires. Mr. A Viet Son, Chairman of Nam Giang District People's Committee, said that to prevent the risk of forest fire, the district has directed localities and agencies to disseminate information on forest fires to villagers.
Mr. Vo Van Trinh, Head of the Forest Protection Department of Quang Ngai Province's Duc Pho town, fretted because the province has 18,000 hectares of forest with a very high fire risk, while the department has only six staff.
Mr. Le Duc Sau, Deputy Director of Binh Dinh Forest Protection Department, complained that 100,000 hectares of planted forests are facing a high risk of fire due to prolonged droughts and extremely hot weather. The provincial forest rangers have adopted measures such as repairing fire barriers, reinforcing fire watchtowers, and sending more staff to monitor the forest.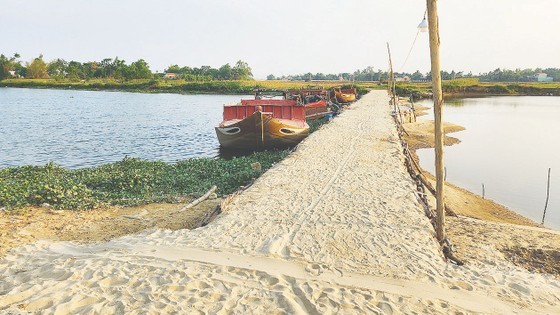 A dam to prevent saltwater in Quang Nam (Photo: SGGP)
Due to the prolonged heat stress, a forest fire raged in Coc Coong village in Dong Phuc Commune of Bac Kan Province's Ba Be District on May 22. Forest rangers and local authorities mobilized more than 100 locals to fight the fire; finally, the fire was under control by 2:30 on May 23.
The Forest Protection Department under the Ministry of Agriculture and Rural Development informed that through satellite monitoring and aerial photography, 61 points of forest fire have been detected across the country mainly in Northwest, Central, and Central Highlands. Previously, in his telegram, Deputy Minister of Agriculture and Rural Development Nguyen Quoc Tri asked people to call the Forest Protection Department to inform the department about the wildfire.