Vietnamese authorities and members of the taxi industry in Ho Chi Minh City are developing taxi apps to compete with Uber, which allows individuals to set up their own on-call taxi service.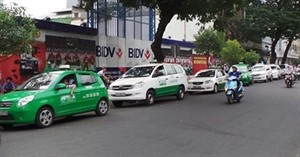 The HCM City Taxi Association, members of which have been hit by the expansion of Uber services, asked for an urgent solution to the new competitor. — Bizlive
Under pressure from the availability and expansion of taxi apps Uber, GrabTaxi and EasyTaxi, the HCM City Department of Science and Technology has introduced the taxi app LiveTaxi, which helps passengers find a taxi, and monitors their journey, distance and travelling cost on smartphones via the internet and SMS.
During a meeting held on December 18 at HCM City's Department of Transport, officials and scientists from the Department of Science and Technology and Huy Hoang companies, which developed the LiveTaxi app, reported initial success of the project after it was tested in the city.
However, some areas need improvement, including information security for both taxi companies and travellers, installation of GPS, calculation of charges and others.
According to local officials, when the domestic-made taxi app is launched and applied widely, it will be the main competitor of Uber in Vietnam.
The app, which is expected to protect taxi riders from being cheated, will be different from Uber as it will be managed by taxi companies.
Nguyen Thi Thanh Nga, of the Department of Science and Technology, said the project aimed to protect consumers, adding that her department had received numerous complaints about cheating by drivers of various taxi companies.
Several countries in the region manage taxi transport better than Vietnam, she said.
Information about the app's feasibility and the time for it to be launched widely were not revealed during the meeting.
Officials said the departments would organise several other meetings to discuss the taxi app in the near future.
HCM City will be the first locality in Vietnam where the app will be launched, officials said.
Doan Le Minh, Director of Huy Hoang Company, which was assigned to develop the LiveTaxi app, said he was confident that the app could be launched even when travellers do not have an Internet or 3G connection.
"Technology used in LiveTaxi is the same as other apps developed by leading countries," Minh said.
The Uber network was launched in 2009 and operates in 232 cities in 50 countries. It began in Vietnam in July, rapidly expanding in HCM City by beating established taxi services on both price and availability.
Those using the Uber network pay on average about 20 percent less than regulated cab fares, but are required to use international currency cards such as MasterCard and Visa. In turn, the vehicle owner pays a 20 percent commission to Uber.
The HCM City Taxi Association, members of which have been hit by the expansion of Uber services, asked for an urgent solution to the new competitor.
The association repeated its petition to have Uber's operations suspended until it meets legal conditions to offer transport services.
Duong Hong Thanh, Deputy Director of HCM City Department of Transport, said the two major taxi companies in the city, Mai Linh and Vinasun, have also begun researching taxi-app information.
At a meeting introducing the app to the HCM City Taxi Association, Thanh told taxi companies and software developers in the city that "we should say thanks to Taxi Uber, which motivated us to research and move forward."
In a related matter, all taxis in HCM City must have GPS installed in their cars so their location can be monitored by their companies, the city has said