For the second year running, Chairwoman of the Ha Noi People's Council Ngo Thi Doan Thanh has received the highest vote of confidence in a poll covering leading positions in the capital city.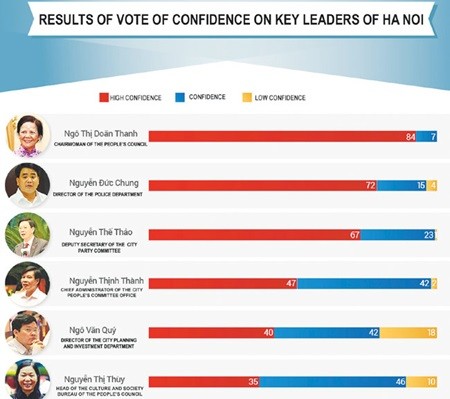 Photo : VNA
In results released yesterday, she won 84 high trust votes (89.36 per cent) in the vote for senior People's Council and People's Committee officials.
In only the second such vote, People's Council members expressed "high confidence", "confidence" or "low confidence" in people occupying 15 key positions: five members of the People's Council (Chairman, Vice Chairman, Standing Committee member, Heads of Department) and 10 members of the People's Committee (Chairman, four Vice Chairpersons and five key members of the People's Committee).
Thanh was followed by Director of Ha Noi Police Department Nguyen Duc Chung and Chairman of the municipal People's Committee Nguyen The Thao, who doubles as Deputy Secretary of the city Party Committee, with 72 and 67 high trust votes, respectively.
Thanh was the only official who got no low trust vote.
Head of the Culture and Society Bureau of the People's Council Nguyen Thi Thuy received the lowest confidence vote with 35 high trust votes.
The Ha Noi People's Council passed a resolution confirming the results of the confidence vote.
Ha Noi Party Committee Secretary Pham Quang Nghi said organising a confidence vote for key officials was a challenge but also an opportunity to help the leaders realise their personal credit rating and understand their responsibilities better.
Nguyen Tung Lam, a deputy from Dong Da district, said the vote of confidence would help to reflect objectively, the professionalism and management capacities of public officials.
Officials who have obtained low trust votes should try harder to meet voters' expectations, he said.