Ho Chi Minh City Television conducted a live coverage of the programmes commemorating 50 years of the legendary Ho Chi Minh Sea Trail in Ca Mau Province, Phu Yen Province and in Ho Chi Minh City on Tuesday.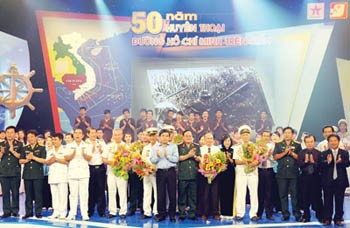 Soldiers of the secret vessels of the legendary Sea Trail and other delegates attend the programme in HCMC (Photo: SGGP)
The programmes were held in coordination with Quan Doi Nhan Dan (People's Army) Newspaper and Sai Gon Giai Phong (Saigon Liberation) Newspaper.
Officials and soldiers of the secret vessels used on the Sea Trail met and recalled their hardship days when they transported weapons and other essentials to the southern battle fields.
Khuu Ngoc Bay, former head of Regiment 962 that organized the transport of weapons on the secret vessels, said that they didn't operate independently but were supported by civilians who protected their identity and helped them to fulfill their mission.
Le Ha, captain of one of the secret vessels, told audiences a story about his beloved mother. Ha and his father were working in Unit 555, in present day Ba Ria-Vung Tau Province. Duong Nam Dong, head of the unit, needed money to travel north on a mission to ask for more weapons. Ha's mother gave Dong all her savings to fulfill the mission and also wanted Ha and his father to support the revolution.
"You should quickly purchase a vessel to travel north and let Le Ha accompany you," she said.
Nguyen Xuan Thom, deputy captain of Vessel No.43 said he and his comrades were forced to burn their vessel for fear of revealing the secret Ho Chi Minh Sea Trail. They all deserted the boat and swam ashore harboring severe burn injures.
They were later found by Nguyen Thi Hong Phuong. After finding Thom lying consciousness on a roadside, she took him to an underground hideout. After he regained consciousness, he asked about his comrades. Phuong ran out to search for them and took them all to a dispensary where Dang Thuy Tram was working.
Ms. Phuong, from Duc Pho District in the central province of Quang Ngai, attending the programme in Phu Yen Province said she very much desired to meet Thang, captain of Vessel No.43, once again.
As luck would have it, 800 kilometers from Phu Yen Province, Mr. Thang was witnessing Phuong's story being narrated in Ca Mau Province on the live television coverage.
Among those viewing the live television program in HCMC, Ca Mau and Phu Yen Provinces were Nguyen Thi Thu Ha, Deputy Secretary of the HCMC Party Committee; Nguyen The Ky, deputy head of the Central Committee for Propaganda and Training; Tran Don, chief of staff of Military Zone 7 High Command; Tran The Tuyen, editor-in-chief of Sai Gon Giai Phong Newspaper; Pham Van Huan, editor-in-chief of Quan Doi Nhan Dan Newspaper and Nguyen Quy Hoa, director of HCMC Television.