HA NOI (VNS) — President Truong Tan Sang and leaders in northern Dien Bien Province yesterday visited two former soldiers who took part to the Dien Bien Phu Victory against the French in 1954. The visit marked the 60th anniversary of the victory.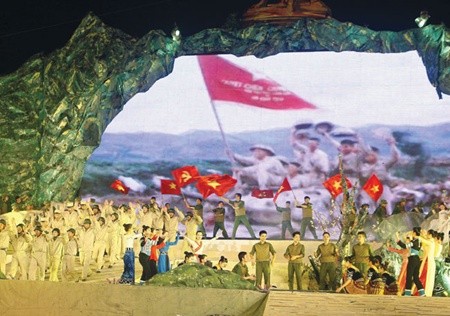 A music performance held yesterday at the 7/5 Square in the northern city of Dien Bien Phu marks the 60th anniversary of the Dien Bien Phu Victory (May 7), which led to the signing of the 1954 Geneva Accord, in which France agreed to withdraw its forces from Viet Nam, Laos and Cambodia. — VNS
The two men, Nguyen Viet Diem and Hoang Van Bay, who were physically injured in the fighting, now live with their families in Thanh Binh and Thanh Truong wards in the city of Dien Bien Phu.
At his meeting with them, President Sang said the Party and the Government would always remember the contributions and achievements of those who had fought bravely and sacrificed themselves to make the Dien Bien Phu Victory possible.
Sang said he hoped the soldiers continued to remind the younger generations of revolutionary traditions so that they could learn from the past and work hard to contribute to the development of the country.
He also said the Government and people had to make greater efforts to take care of ex-soldiers and the families of war martyrs.
Meanwhile, at a conference yesterday, historians discussed aspects of the Dien Bien Phu victory, which marked a major milestone in Viet Nam's anti-colonial fight.
To mark the anniversary, more than 300 historians and other experts from around the country also gathered in southern Binh Duong Province to discuss the Dien Bien Phu victory.
Nguyen Minh Giao, head of the provincial Party Committee's Propaganda and Training Department, said the victory would retain its significance forever.
About 200 papers related to the Dien Bien Phu campaign were presented. The Geneva Conference on Indochina came in for much attention.
International support for Viet Nam in the final stages of the resistance against the French was also analysed, including papers outlining assistance from China and India.
Another main theme was the opening of several theatres of war around the country during the Dien Bien Phu campaign to force the French to spread their resources. The subject attracted 30 reports reviewing military activities to tie down the French, including in the Central Highlands and southern provinces.
Outlining the significance and impact of the victory, historians called for careful preservation of Dien Bien Phu relics.
The conference was organised by Thu Dau Mot University, the HCM City's University of Social Science and Humanity, the Southern Institute of Social Science, and War Remnants Museum