Authorities, business groups and companies need to cooperate closely to keep out fake products during the upcoming festive season, a conference heard on December 23 in Ho Chi Minh City.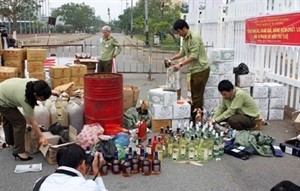 Staff from Da Nang's Market Watchdog Department destroy counterfeit goods (Photo: VNA
At the event organised by the Vietnam Association for Anti-counterfeiting and Trademark Protection (VATAP), participants said that despite authorities' efforts counterfeit and smuggled products have kept increasing and remain a serious problem.
They feared the situation could worsen soon since New Year and Tet (the Lunar New Year) usually see a spike in the consumption of liquor and confectionery.
Do Hong Chinh, Deputy Secretary of the Vietnam Beer Alcohol Beverage Association, said alcoholic drinks are a popular Tet gift and so could spark off fakes.
Any success in combating this is only possible if authorities, industry associations and companies work together, he warned, underlining that since no foreign spirits are allowed to be produced in Vietnam, any individual or company making foreign-liquor labels would be involved in counterfeiting.
In an interview to the media on the sidelines of the conference, Do Thanh Lam, Deputy Head of the Ministry of Industry and Trade's Market Management Department, said, "This year market watch forces have found over 100,000 cases with products violating the law, an increase of 15 percent year-on-year."
Of them 18,000 related to counterfeits, he said.
Most companies and industries did not have a dedicated department for dealing with fakes or developing their brands.
He said companies have to invest in technology and "grey matter" to combat this.
Le The Bao, Chairman of VATAP, said companies play a very important role in combating fake products, adding his association appreciated companies that invest money in developing distribution systems including stores committed to selling authentic products.
He promised that the association would work closer with authorities and companies to combat the problem during the upcoming festivals