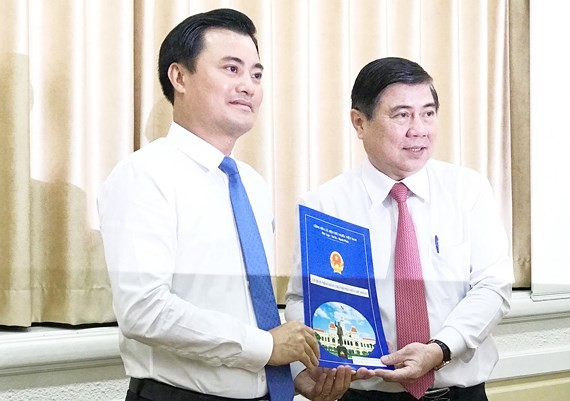 That is a new but old position to Mr. Cuong because he used to be head of the board before being appointed to director of the Department of Transport. Mr. Cuong now replaces Mr. Le Nguyen Minh Quang as head of the board.

At the decision giving ceremony, chairman Nguyen Thanh Phong stressed that metro routes play significant role in meeting travel demand of residents and cargo transport demand in the city. They will contribute in forming a modern traffic system in the city.
Talking about Ben Thanh-Suoi Tien metro line, chairman Nguyen Thanh Phong said that that is a national important project playing a very important role to the relationship between Vietnam and Japan. For the last past, HCMC People's Committee has focused on implementing the first metro line to put it into operation by 2020.
So far, the work progress has reached 61 percent with the great contribution by the entire staff, cadres and workers at MAUR including Mr. Le Nguyen Minh Quang, he affirmed.
He thanked Mr. Cuong for being willing to receive the new mission, hoping that Mr. Cuong will efficiently manage MARU to ensure the progress of metro projects, especially Ben Thanh-Suoi Tien, to meet city residents' expectation and contribute in improving the relationship between Vietnam and Japan.
Mr. Bui Xuan Cuong, born in 1975, is a bridge and road engineer, master of engineering and master of public administration. For a long time, he worked at the Department of Transport at different positions from low to high.
He was appointed to deputy director of the department by the city People's Committee at the end in 2009, head of MAUR in August 2014 and director of the Transport Department a year later.
During a year working as head of MAUR before, he organized construction of the first underground stretch of the first metro line, making of girders for the above ground stretch and organize opinion collection from residents and scientists about the train design for the project.
He together with members in the board promoted investment in the second metro line and other routes.
During the time of working as head of the Transport Department, he made lot of contributions to the transport industry such as the launching of the first public waterway transport route.
Aside from that, he has guided construction of many important works and implementation of many solutions to tackle traffic jam in the city including the areas in My Thuy intersection, District 2 and Tan Son Nhat Airport in Tan Binh. Solving traffic jam in Tan Son Nhat Airport and city entrance gateways is chosen to be one of ten outstanding events of the city in 2018.
He and inferiors has built and put into operation the city traffic portal at website giaothong.hochiminhcity.gov.vn and applications in mobile devices to provide information about infrastructure problems and traffic conditions for residents in a timely manner.
Mr. Bui Xuan Cuong is estimated to be open to the press with the model of "press coffee" organized monthly for the agency's leaders together with traffic reporters to have breakfast and coffee and share information which reporters interest in.
Currently the public is paying much attention to MAUR after Mr. Le Nguyen Minh Quang together with many major officials and staff of the board quit their jobs.
Mr. Hoang Nhu Cuong, secretary of the board's Party Committee and deputy head of the board, has gone abroad for personal business without permission by authorized agencies.
HCMC Inspectorate Agency and State Audit Office of Vietnam have determined many wrongdoings in the first metro line project.