Ho Chi Minh City People's Committee Deputy Chairman Le Van Khoa on December 22 said that the city would synchronously implement supervisory measures to ensure goods supply, food safety and price stabilization in the coming Tet holidays.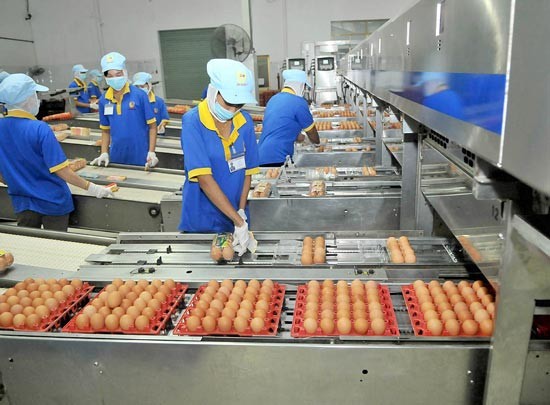 Necessary commodities such as egg will be abundant with stable prices in the coming Tet holidays in HCMC (Photo: SGGP)
He was reporting to deputy Minister of Industry and Trade Do Thang Hai who led a delegation from the ministry's local market management body to work with the city on preparations of necessary commodities for the Tet holidays and market stabilization measures.
Deputy Chairman Le Van Khoa said that authorized agencies will work to prevent goods scarcity via a slew of measures to supervise supply and demand.
Subsidized items have always been priced 5-15 percent lower than market prices with distribution network covering all districts.
Deputy Director of the city's Department of Industry and Trade Le Ngoc Dao said that the lunar New Year will come one month after the solar New Year and the Tet festival will be long this year. Hence, purchasing power is forecast to post a year on year increase of 15-20 percent in days near three main Tet holidays.
Businesses in the city have so far completed their plans to prepare goods and prices will not surge over normal in two months before and after the holidays from January 8 to March 8, 2016, the department said.
In conclusion, deputy minister Do Thang Hai appreciated HCMC efforts in Tet goods preparations and market stabilization. The city's price subsidization program has been implemented effectively contributing in curbing the country's consumer price index.
He reminded the city of supervising travel fee in the Tet holidays to prevent it from long and highly increasing.

Related article:
HCMC spends over US$721 million on preparing goods for Tet holidays