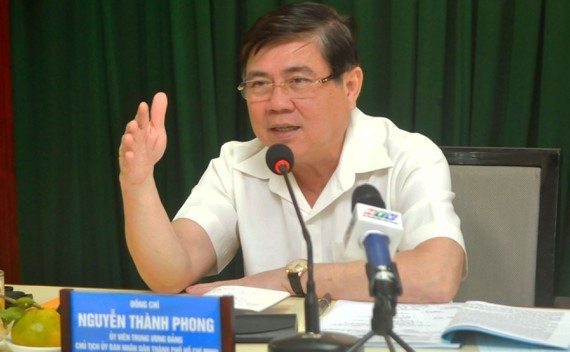 Chairman of HCM City People's Committee (Photo: SGGP)
Speaking at the meeting to review the plans and roadmaps of the HCMC's Department of Home Affairs for 2021, Mr. Phong asked the department to coordinate with the HCMC Academy of Cadres in order to train adequate civil servants that meet the requirements at government-run agencies.
Mr. Phong stated how citizens and corporates have complained about delays and red tapes at district-level agencies and up, which he does not condone, especially during the current difficult times.
He emphasized the role of state officials in inspiring and setting good examples for their employees, while warning delegates about the hindrance of a round-about bureaucracy that they would eventually have to endure when they retire.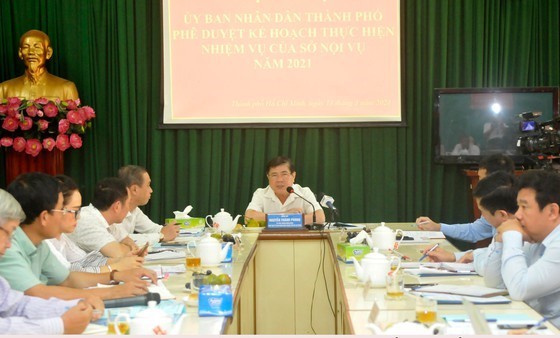 Chairman Nguyen Thanh Phong at the meeting with the HCMC Department of Home Affairs (Photo: SGGP)
On staff training and recruitment, Mr. Phong emphasized work attitude over specialized knowledge and expertise, listing expertise as the initial basis, and skills and attitudes as subsequent criteria for staff placement and promotions.
He cited examples where many skilled officials whose tuition was covered by the state budget promptly resigned when they ran into problems at higher-up positions, even willing to pay back the tuition, despite having vouched to work long-term for state agencies.
According to the Director of the Department of Home Affairs Huynh Thanh Nhan, about 305 staff members assigned to the new Thu Duc City are idle, and the lack of people's councils at the ward level has proven problematic.
In other news, the revamped exam for state officials has been scheduled for April 2021 in HCMC with nearly 2,400 qualified candidates, said Deputy Director of HCMC Department of Home Affairs Lam Hung Tan.