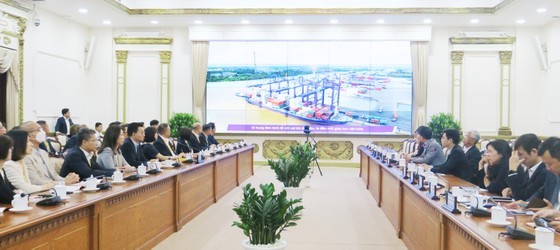 At the meeting
At the reception, Vice Chairman Vo Van Hoan shared some general information about the city's economic and social situation, the orientation of the country's key economic hub towards smart urban development, the development of the digital economy, green economy, digital management and so on.
In order to achieve this goal, Ho Chi Minh City currently has some effective models to lure foreign investment such as high-tech parks, hi-tech agricultural zones and Quang Trung Software Park.
Vice Chairman of Ho Chi Minh City People's Committee Vo Van Hoan welcomed concerns of FHKI in the fields of information technology (IT), logistics, green transformation, digital economy and so on which are very suitable for the city's development needs.
Saigon High-tech Park has been entering the stage of production and development. The city has prepared a 200-hectare land to build a science and technology park in the high-tech park.
According to the city leader, FHKI could consider its investment in this project.
In addition, Hong Kong investors can cooperate with Ho Chi Minh City in two key projects being the development of an international financial center and Thu Duc City as an innovative city.
Vice Chairman of Ho Chi Minh City People's Committee Vo Van Hoan pledged that Ho Chi Minh City would play a role as a bridge to connect businesses of the two sides. It is expected that HCMC will welcome many delegations of Hong Kong enterprises to learn about and seek cooperation and investment opportunities in the coming times.
As for the Hong Kong side, members of the FHKI delegation highly appreciated the development of Ho Chi Minh City in recent years and said that the city has a lot of potentials for Hong Kong businesses to seek investment and business cooperation opportunities.
FHKI members presented a brief introduction about the history of FHKI's formation and development and emphasized that FHKI businesses are operating in many fields so they can meet the HCMC's development needs.
Hong Kong businesses are willing to share experiences with Ho Chi Minh City in building and developing smart cities, green cities, science and technology and infrastructure development.
Currently, Hong Kong is short of IT human resources meanwhile Ho Chi Minh City has abundant and qualified IT human resources; therefore, the two sides can foster cooperation in the field.
FHKI Chairman Sunny Chai pledged to call on Hong Kong's businesses to share development experiences and promote understanding of cooperation opportunities in Ho Chi Minh City; and he hoped that the multifaceted cooperation ties will bring good results and success for the two sides.