ISHINOMAKI, Japan, Oct 22, 2011 (AFP) - French Prime Minister Francois Fillon visited the tsunami-ravaged Japanese port city of Ishinomaki Saturday, saying the disaster had left "wounds which will take a long time to heal".
Some 4,000 of the city's 165,000 residents were killed in the record March 11 earthquake-tsunami, of the 20,000 left dead or missing across northeast Japan.
Seven months after the catastrophe the once-thriving fishing port remains a scene of devastation, strewn with thousands of tonnes of debris piled in mounds several metres high. Hundreds of wrecked cars have still not been cleared.
"This is a scene of desolation, there is the immediate shock and then we think things are going to rebuild and return to normal," said Fillon, who met volunteers including young French people helping with reconstruction work.
"But it will be here for years... This scene of desolation is no less brutal than the images of the tsunami itself."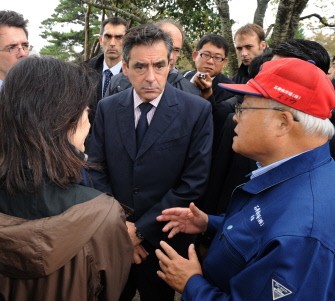 AFP - French Prime Minister Francois Fillon (C) chats with a local fish wholesaler during a visit to the tsunami-hit city of Ishinomaki, Miyagi prefecture on October 22, 2011.
Local authorities estimate it will take five years to rebuild Ishinomaki after the damage caused by the 15-metre (50-foot) wall of water triggered by a massive 9.0-magnitude earthquake.
"I came to Japan to talk about the G20 (meeting in France), which is very important for the future of the world economy," said Fillon, who arrived in Sendai, a major city near Ishinomaki, earlier Saturday by special plane.
"But I thought it was not possible to come to Japan without coming here to the heart of one of the regions most affected by the earthquake."
"We were all shocked by the images that we have seen on television," Fillon said, adding it was "important to continue to provide moral, technical and material support when necessary."
"Japanese industrial production is nearly back at pre-tsunami levels, which shows the dynamism of this economy," Fillon said. "But there are wounds that will take a very long time to heal, there are thousands of people missing."
Fillon said he had followed the events in Japan with "an unusual interest" because one of his brothers, a jazz pianist, is married to a Japanese musician.
His brother is to perform with other musicians at a fund-raising concert in Tokyo for victims of the disaster.
Fillon was due to spend the night in Tokyo after meeting French residents at the ambassador's residence.
On Sunday he will hold talks with Prime Minister Yoshihiko Noda before leaving Japan. He met his South Korean counterpart Kim Hwang-Sik on Friday.