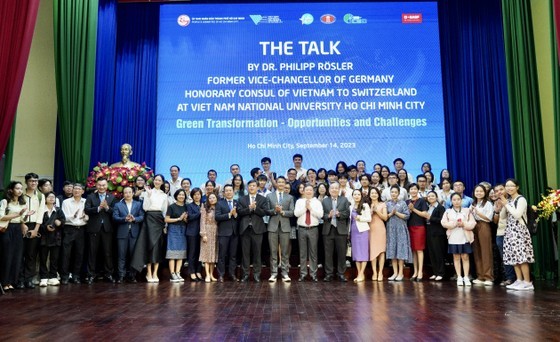 Mr. Philipp Rosler takes a photo with delegates and students of the VNU-HCMC.
On the morning of September 14, Mr. Philipp Rosler, former Deputy Prime Minister of Germany, participated in an interactive session with government officials, students from the Vietnam National University - Ho Chi Minh City (VNU-HCMC), and business representatives. The discussion centered around the theme "Green Transformation: Opportunities and Challenges" and was a featured event within the HCMC Economic Forum (HEF) 2023, held from September 13 to 17.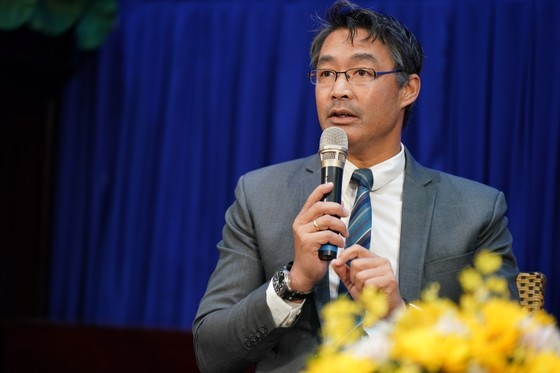 Mr. Philipp Rosler speaks at the event.
Mr. Duong Anh Duc, Vice Chairman of the HCMC People's Committee, participated in the event alongside the leadership of the VNU-HCMC. During his speech in the interactive session, Mr. Duong Anh Duc highlighted that HCMC is currently grappling with the adverse effects of climate change, environmental pollution, and the challenges of transitioning towards a green and sustainable economy. In response to these challenges, HCMC has proactively enacted a series of policies.
In the pursuit of promoting green growth and a circular economy, the shift towards green employment holds paramount significance. The world is entering an era of green transformation, set against the backdrop of climate change, which is anticipated to usher in new opportunities for the younger generation.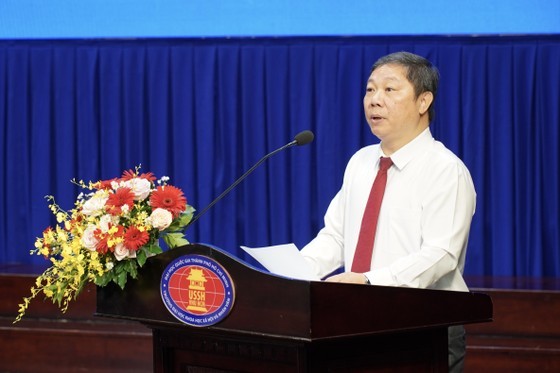 Mr. Duong Anh Duc speaks at the event.
He cited that, according to the United Nations, by 2030, the shift toward a green economy will generate 8.4 million new jobs for young people. However, there's a concern that 60% of them might lack the necessary skills for the green economy. Therefore, students are encouraged to proactively prepare and equip themselves with the green knowledge, skills, and competencies required to join this new workforce. Green skills encompass practical tools and knowledge that enable students to utilize environmentally friendly technologies and make environmentally conscious decisions in their daily lives and workplaces.
"Mr. Philipp Rosler's talk on the theme 'Green Transformation - Opportunities and Challenges' at the VNU-HCMC provides an opportunity for students, lecturers, and staff of VNU-HCMC to interact with Mr. Philipp Rösler as well as with businesses and scholars. Through this dialogue, I believe our students can grasp trends, accumulate experience, enhance their knowledge, and develop green skills, ultimately increasing their employment prospects in the future," stated Mr. Duong Anh Duc.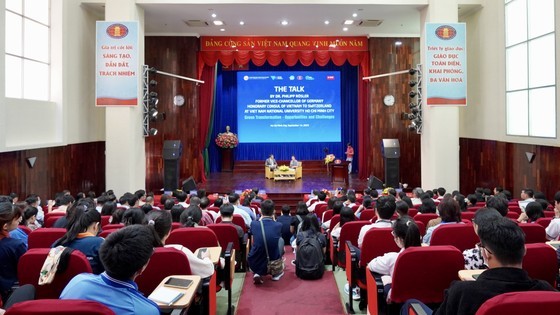 An overview of the event
Associate Professor - Dr. Nguyen Minh Tam, Vice Director of the VNU-HCMC, is of the opinion that Mr. Philipp Rosler's diverse experience, which includes serving as a former Deputy Prime Minister of Germany, a former Member of the Executive Board of the World Economic Forum, and participation in advisory roles within numerous organizations, corporations, and educational institutions, will offer valuable and captivating insights for VNU-HCMC students, staff, business representatives, scientists, and leaders.
"Particularly, students will grasp the development trends, enrich their knowledge, and cultivate green skills to seek potential opportunities in the future. Additionally, I will share my concerns and thoughts to engage in a constructive dialogue with Mr. Philipp Rosler," said Associate Professor - Dr. Nguyen Minh Tam.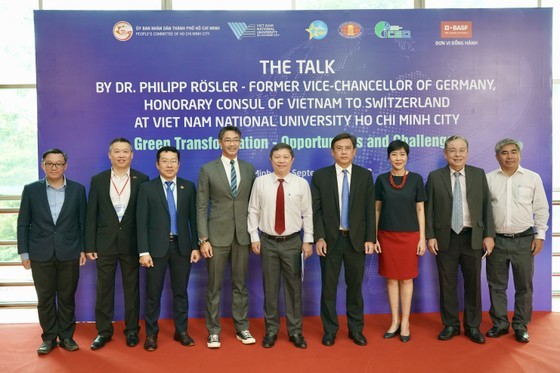 Former Deputy PM of Germany Philipp Rosler and delegates at the event
Mr. Philipp Rosler began his speech with a cordial introduction, stating that he was born in Vietnam, specifically in the Mekong Delta. He expressed his deep sense of pride in witnessing products from the Mekong Delta region being exported to Germany.
He mentioned two factors corresponding to two phases: digitization and sustainable development.
Regarding digitization, he argued that everything can be digitized sooner or later, fundamentally altering the way we do things.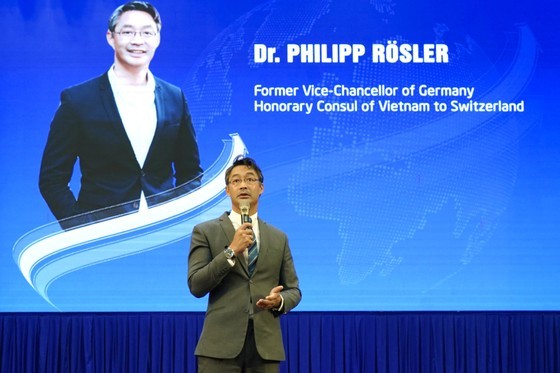 Mr. Philipp Rosler speaks at the event.
The second phase will be the era of sustainable development. Economies are increasingly recognizing their responsibility to pursue sustainable development.
Mr. Philipp Rosler recalled that during his time in Germany, he hailed from a region rich in forests. He mentioned that centuries ago, people knew that cutting down too many trees without replanting was not advisable. This wisdom had been passed down through generations and had implications not only for agriculture but also for modern industry and construction.
Mr. Philipp Rosler expressed his joy and gratitude for the opportunity to share with students and staff at the VNU-HCMC. "It's truly meaningful for me to be here with all of you, discussing the details, the challenges ahead, and what we can do together," Mr. Philipp Rosler stated. He emphasized that the green transformation is not just a message for industries; it pertains to our collective future.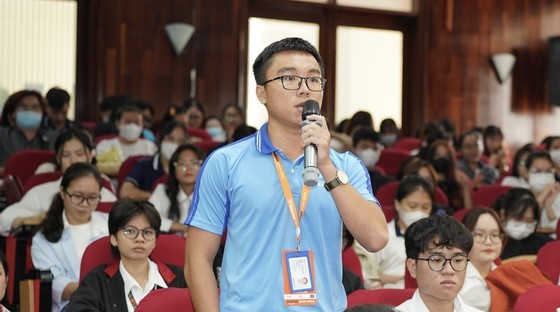 At the event
In his discussion, Mr. Philipp Rosler also addressed the significance of universities and young individuals in the context of green transformation and sustainable development.
He emphasized that the modern concept of a "university" extends beyond traditional knowledge dissemination; it also serves as a wellspring of fresh ideas and knowledge with societal benefits. Moreover, universities should actively participate in initiatives that foster students' awareness of eco-friendly lifestyles and sustainable development.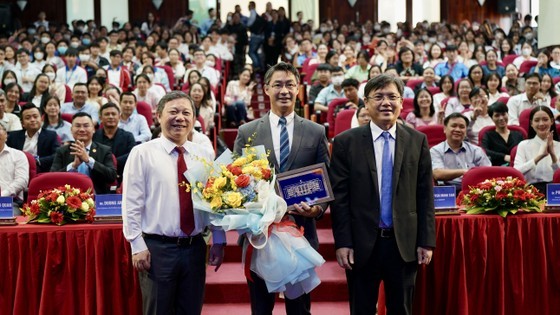 Mr. Duong Anh Duc gives flowers to Mr. Philipp Rosler.
In his perspective, it is essential to educate young people so they will gain a profound understanding of their negative effects on nature. With this awareness, young individuals can contemplate actions to improve the situation and promote a green way of life among others.
Furthermore, Mr. Philipp Rosler said that every nation, including Vietnam, has the resources and potential to tackle its sustainable development challenges independently. While support commitments from larger countries are beneficial, the foremost emphasis should be placed on fostering self-reliance within each country.
"What truly matters is identifying the problems we can tackle and prioritizing solving them. We should not rely on external assistance; the solutions always lie in our own hands," stated Mr. Philipp Rosler.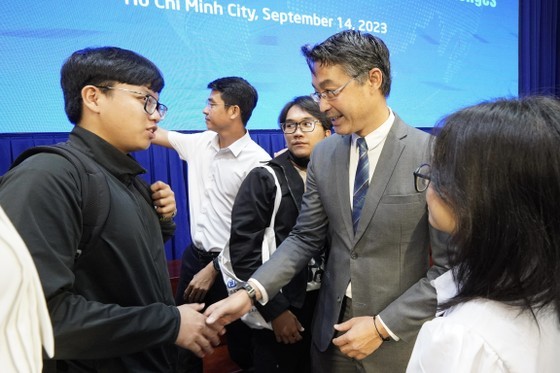 Mr. Philipp Rosler talks to students at the event.