Vietnam defeated China 1-0 in Sunday's final of the 2010 ASEAN Open Football Tournament in Indonesia to become the champions.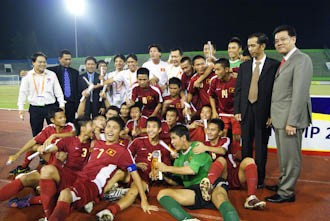 U16 Vietnam celebrate their championship of the 2010 ASEAN Open Football Tournament in Indonesia on Sep. 26 (Photo: ASEAN Football Federation)
The result was a repetition as the Vietnamese juniors beat the Chinese players with the same score in the tournament's opener on September 20.
The Sunday match started with China playing higher than their rivals, who played with counter-attack tactics.
Vietnam's well-organized defense was the answer to long and high balls from the other side.
During a counter-attack shortly before the break, Vietnam's right winger Tan Tai crossed the ball into the penalty box. Nguyen Do controlled the ball in the far side and created a chance for midfielder Xuan Nam, who converted it.
The Chinese side attacked continuously during the second half but they did not score any goal.
In the third-place match, East Timor beat hosts Indonesia 2-0.
The four teams – East Timor, Indonesia, Vietnam and invitees China – competed in the open tournament, starting on Sep. 20. They played in a round-robin format to decide who to play the final.
Vietnam will take part in the forthcoming U16 Asian Tournament hosted by Uzbekistan.