Farmers and artisans in the Mekong River Delta are busy creating "strange" and "unique" fruits for Tet (Lunar New Year), which falls in early February next year.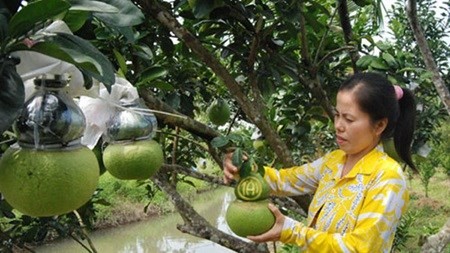 A farmer tends to Tai-Loc grapefruits in Hau Giang Province. (Source :news.zing.vn)
Vo Trung Thanh, chairman of a farmers club in Hau Giang province that creates fruits in unusual shapes and dubbed the "King of bottle gourd grapefruit", said his club would supply 10,000 grapefruits shaped like a bottle gourd and with the words Tai-Loc (Wealth-Good Fortune).
Besides, 1,000 grapefruits with the Vietnam map showing Hoang Sa (Paracel) and Truong Sa (Spratly) archipelagoes would be sold for the first time, but due to teething troubles, farmers could only achieve 40 percent of the targeted number, he said.
Though productivity has been hit somewhat by unfavourable weather, the prices of the fruits are expected to be the same as last year, he said.
Grapefruits with Tai-Loc on them will thus cost 300,000 VND to 800,000 VND (13.3 USD to 35.5 USD), and those with the Vietnam map, 1.2 million VND (53.4 USD).
Tran Thanh Liem of Can Tho city said he plans to sell around 600 pairs of gold-bullion watermelons and 200 pairs of square watermelons.
He expected to harvest the fruits 15 days before the Lunar New Year on February 8.
Many companies wanted to place big orders for the watermelons, but he had to turn them down and only took deposits from customers who wanted to buy 15-20 pairs, he said.
Watermelons depend too much on the weather, and any unseasonable rain causes their roots and leaves to rot, he said.
In past years these two kinds of watermelons, especially those weighing under three kilogrammes, were in great demand in the northern market and HCM City.
Liem said a pair of gold-bullion watermelon with the word Tai or Loc fetched 2.5 million VND to 3 million VND (111.3 USD to 133.57 USD) a pair depending on their weight, and square watermelons weighing 1.7 kilogrammes cost 1.1 million VND (48.9 USD) a pair.
In addition to the unique fruits, farmers have also created many unique ornamental trees for Tet.
At Nam Cong Flower Establishment in Ben Tre province, owned by Nguyen Van Cong, one of the first artisans to create animal-shaped ornamental trees in Vietnam, around 20 permanent employees have been busy the last several months shaping ornamental trees like animals.
Since 2016 is the Year of the Monkey, Nam Cong plans to launch market monkey-shaped ornamental trees priced at around 2 million VND (88.9 USD) each.
Meanwhile, in Dong Thap province's Lai Vung district, which is famous for its Lai Vung pink mandarin, farmers have grown hundreds of pots of pink mandarin to supply to the market.
Luu Van Rang, for instance, said he would sell around 450 at 1.5-5 million VND each.
Traders have placed deposits to buy all 450, he said.