Consumer Price Index (CPI) growth this year is recorded at 1.84 percent--the lowest rate ever for the last decade. Experts said it a great success in inflation control but expressed concerns about low aggregate demand and businesses' difficulties amid tight monetary policy at a seminar yesterday.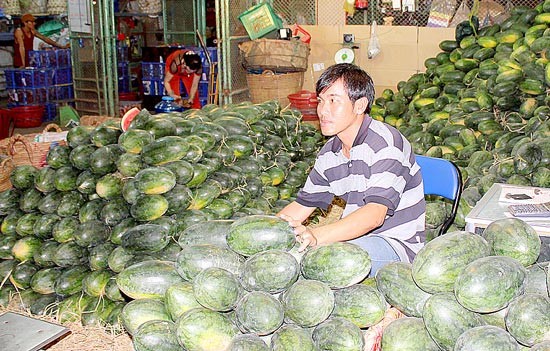 A watermelon stall in Thu Duc wholesale market (Photo: SGGP)
Head of the Economics and Finance Institute Nguyen Ngoc Tuyen appreciated the Government's inflation curb efforts this year. However he said that the low CPI was the consequence of weak consumption demand. In recent years, it has accounted for only 50 percent of that before the world economic turmoil in 2008.
In addition the index was also impacted by plunged petrol prices, the low credit growth rate of 13 percent, and the Government's tight fiscal policy, he added.
Economic expert Ngo Tri Long said that inflation control with the tight monetary policy has slowed down purchasing power and caused stagnant economic activities.
The nature of the low inflation rate is because of unimproved aggregate demand not improved labor productivity and down production costs at businesses.
Inflation has not been curbed in a sustainable and expected way, Mr. Long stressed.
According to Mr. Nguyen Ngoc Tuyen, low inflation has brought chances but also challenges for Vietnam's economy in 2015.
It helps stabilize the macro economy, monetary market and exchange rate. Low prices will encourage consumption and contribute to make business environment advantageous for foreign investment attraction.
However the low inflation rate would bring challenges for budget revenue target. The Government continues facing capital shortage for investment and debt payment and the implementation of other socioeconomic development projects, he said.
Deputy Director of the Industry and Trade Information Center under the Ministry of Industry and Trade Le Quoc Phuong said that the Government should continue inflation control and macroeconomic stability policies simultaneously with economic growth recovery polices, aiming to minimize short-term negative impacts such as down investment and consumption, up inventory and business bankruptcy.
The Government should continue helping businesses overcome difficulties, and loosen monetary and fiscal policies to boost economic growth. Economic restructuring should be stepped up and the economic growth modal should be converted into a better one, he specified.
For more positive economic prospects next year, Deputy Head of the Central Institute for Economic Management Tran Kim Chung proposed authorized agencies to solve inventory problem, extend tax payment time and reduce tax and fee rates to assist and encourage businesses to broaden investment and market.
Economic structuring should focus on three key matters including public investment, the banking system and state own enterprises; solutions for real estate market difficulties; and administrative reform in tax and customs fields, he added.