The Ho Chi Minh City Department of Finance has submitted to the city People's Committee a draft regulation, which will create a new type of fee, increase land price adjustment coefficient or coefficient K and further hike housing prices.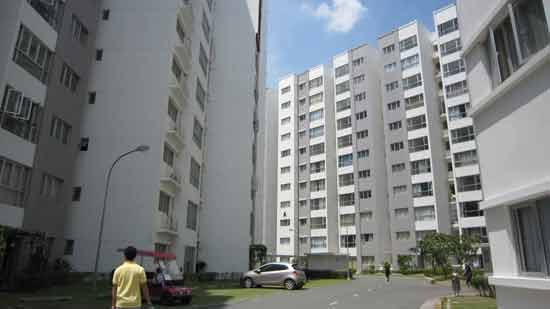 Medium income people must save 17 years to afford for a common apartment in HCMC (Photo: SGGP)
According to the draft regulation which is waiting for approval by the People's Council, those transferring land for wet rice farming into other non agricultural purposes will have to pay a new type of fee.

In case rice farming land is used for building of houses for lease, doing business and providing financial services, restaurants and office buildings; the land use purpose change fee will be 100 percent rice farming land price, provided by the city authorities annually.

The HCMC Real Estate Association (HoREA) said that many low and medium income people are in dire need of housing in HCMC, so the charge rate should be lowered to 50 percent.

At present, common apartments with medium and small scales are priced 20-25 times higher than income level of a lot of residents. If the draft project is approved, the rate will be further increased, said association chairman Le Hoang Chau.

The draft regulation will also hike the land price adjustment coefficient (coefficient K) imposing a fee on shifting a certain area of land, which exceeds permissible limits, into housing purpose.

It will increase to 1.2-2 times to those under group 2 converting land for services and trading, finance, restaurants, hotels, houses for lease and office building; and group 3 including households or individuals making land use right certificates and investors of real estate projects.

HoREA said the new charge too high and proposed to keep it unchanged compared to the coefficient K set for 2015 to the group 2. This aims to create conditions for businesses and investors to provide diversified products and employment.

High coefficient K will increase land use fee meaning the price of real estate products will also go up.

In fact, the unreasonable structure of real estate cost price has already pushed up housing prices to place heavy financial burden on house buyers, Mr. Chau said.

The real estate cost price structure now comprises site clearance cost, land use fee, land rent, charge for using farming land, costs on capital, construction, materials, equipment, spending on investment preparation and project management, taxes and administrative procedure charges.

Therefore, Mr. Chau proposed the city People's Committee to rationalize the coefficient K to prevent housing prices from highly increasing.