Denmark will support Vietnam in capital, technology, equipment and human resource to develop wind power, according to Mr. Bo Mønsted, Trade Counselor at the Danish Embassy at a seminar themed "Vietnam Wind Energy 2014" hosted by the Danish Embassy in Vietnam in Ho Chi Minh City on December 9.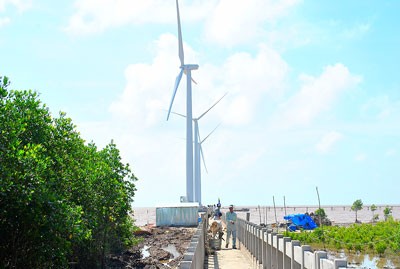 Illustrative photo (Photo: Sggp)
Experts highly appreciated at Vietnam's huge potential for development of wind energy.
The development of recycled energies is one of the government targets in the national power development plan for the 2011-2020 period with the vision to 2030, said Pham Trong Thuc, head of the New and Renewable Energy Department under the Ministry of Industry and Trade.
The total wind power capacity is expected to reach 1,000MW by 2020, accounting for 0.7 percent of total electricity production; and gain 6,200MW by 2030, accounting for 2.4 percent of total electricity production.
Mr. Pham Trong Thuc also applauded the Danish Embassy's help in developing wind power in Vietnam.