Exporters and traders are flocking to the Mekong delta to buy large quantities of channeled apple snails at high prices, which has raised public concern that people may breed the harmful species in future.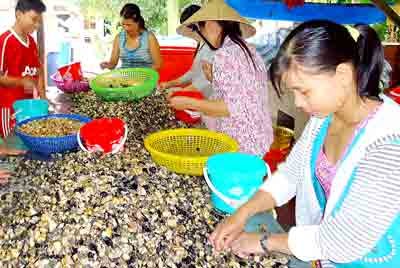 Workers processing snails in Nguyen Ngoc Am's house in Long My district of Hau Giang Province (Photo: SGGP)
Farmers in Long My district in the Mekong delta province of Hau Giang have been rushing to catch channeled apple snails, which actually are serious agricultural pests. T
his year the demand for these pests has suddenly grown with exporters willing to pay a high price to households willing to collect them in the region.
Vo Van Sau, a resident from Vi Thang Commune in District Vi Thuy of Hau Giang Province said the creatures without their shells sold at VND12,000 to VND14,000 (US$ 0.67) per kilogram last month.
This prompted most of the households in the commune to catch snails and one person is said to earn VND50,000 to VND100,000 a day.
Previously, the snail had been bought at a very low rate, as feed for fish, chickens and ducks.
At Nguyen Ngoc Am's home in Long Phu commune in District Long My of Hau Giang Province, workers gather to process the snail, peeling the shell of the snail before selling. Am buys around 8 tons of snails' everyday and then sells to traders who export them to China and Taiwan (China) for animal feed.
Nguyen Van Khoa, chairman of the People's Committee of Long Phu Commune said the local government encouraged people to catch the pests as it brought in income as well as eradicated the pests. However, he also expressed concern that someone may take to breeding the pests for lucrative gains.
For years farmers in the Mekong delta as well as the rest of the country have spent much to eradicate the harmful channeled apple snail. Farmer Tu Ba Dat from Thanh My Tay commune in Chau Phu district in the Mekong delta province of An Giang, spent VND600,000 on pesticides for one hectare of paddy field.
Dang Ngoc Giao, deputy head of the Department of Agriculture and Rural Development in the province, warned of serious repercussions in exporting snails to China. Hau Giang authorities are now tightening control on their trade so as to discourage their breeding.
Agricultural authorities have warned farmers in the Mekong delta provinces of Dong Thap and An Giang, asking them not to breed the snails even though traders are offering very good rates.